Spotlight
The COVID-19 vaccine rolls out hope – Gary's story
Like so many of our colleagues across the county, our head of patient safety Gary Risdale has been instrumental in the roll out of the COVID-19 vaccine in Somerset.
As Somerset's COVID-19 vaccination programme expands to include all adults, one of the biggest challenges is engaging with harder-to-reach groups. Gary recently spoke to Claire Brine at the War Cry magazine about his role on the programme, the importance of reaching out to everyone to offer the jab, and how his Christian faith has helped him during the pandemic:
"It can feel very emotional to be at a Covid-19 vaccination site,' says Gary Risdale, the programme manager responsible for the vaccine's rollout in Somerset. "People are positive when they come in for their jab and grateful when they leave. Being part of the vaccination programme is rewarding because you get a sense of: Wow, this is really giving people hope."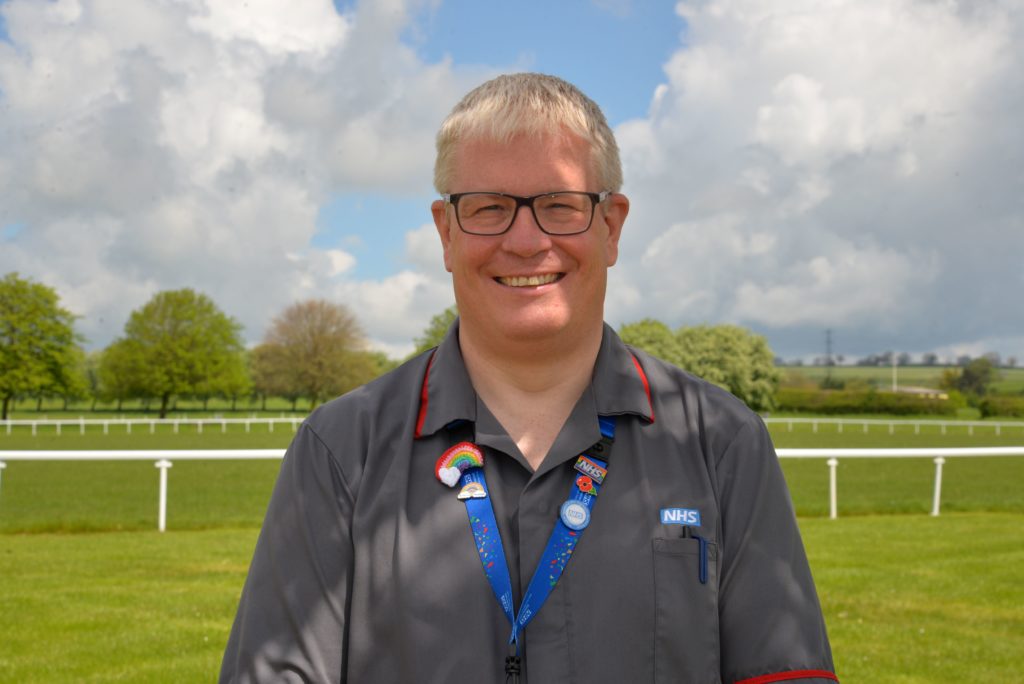 A mental health and learning disability nurse for 30 years, Gary was working as head of patient safety for Somerset NHS Foundation Trust when he got the call inviting him to join the Covid-19 vaccination programme. As he manages the rollout of the vaccine across the county, one question is at the forefront of his mind: how do we make sure we reach everybody?
"My focus is on making the vaccine available to all," he says. "So while we oversee the large vaccination sites – such as Taunton Racecourse, where we are vaccinating five or six people every five minutes – I'm also trying to make sure we reach the people who aren't lining up and engaging with the programme, such as the homeless population, sex workers and people live on the road in their vans. If people are not registered with a GP, they won't be contacted about getting a vaccination, so we have been attending homeless drop in centres and drug and alcohol services in order to offer it to them. It's important that we get into all these areas, so that people on the margins aren't missed."
While Gary is happy to step away from his desk in order to take on a shift administering vaccinations, he explains that the main goal of his job is to make sure that the programme is running as efficiently as possible – for both NHS staff and volunteers, and the patients themselves.
"As well as overseeing what happens at the large vaccination sites, such as the Bath and West Showground, I also work with GPs and the analytics team, looking at how many people have been vaccinated and how many more vaccinations we need to deliver," he says. "On top of that, I work with the NHS communications team, considering how best to communicate with the public. We've noticed that the Eastern European population in Somerset isn't picking up the vaccine at the same rate as other ethnic groups, so part of the programme is trying to understand the reasons behind that and reaching those communities.
"In terms of the future, we need to look at managing the vaccination programme beyond the first and second doses. We need to think about winter this year and what that might look like. Will there be booster doses? If there are, how do we deliver them?
"Lastly, it's important to support our staff and the amazing volunteers who have stepped forward to support the programme. We have asked a lot of them this year and so we need to consider how we can be kind to them, keep them motivated and thank them"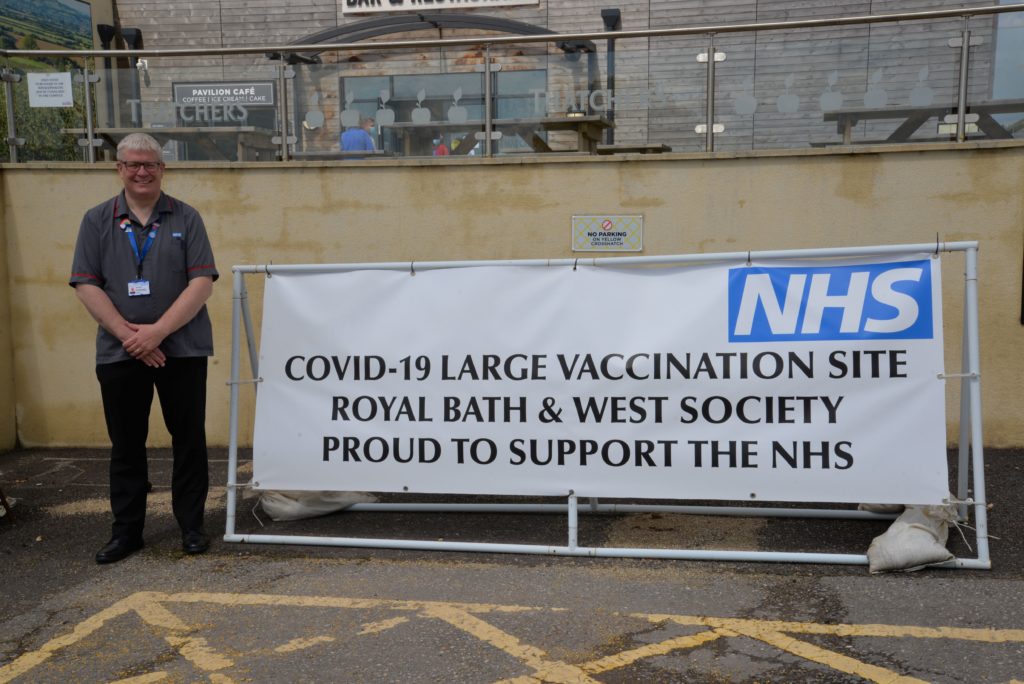 Though the workload has been demanding, Gary is impressed by the dedication of the NHS staff and their willingness to adapt to new working practices. He recalls how he felt when, as mental health and learning disability nurse working in a managerial role, he was asked to work on vaccinations.
"Being a nursing manager meant I hadn't touched a needle in nine years – so I had to refresh my skills," he says. "A lot of staff working in the vaccination team have had to do the same because they come from different backgrounds. Seeing people being willing to step out of their comfort zones in order to work on something different makes me realise that I've never been prouder of the NHS.
"I remember a day back in December, very early on in the vaccination programme, when we had to administer a large number of vaccines in one day. At very short notice, we got the team together and then we just got on and did it. People came in to get their jabs and they were crying, because the programme gave them hope. That effort by the vaccination team hasn't stopped."
While the majority of people across the UK are relieved and grateful that a vaccine for Covid-19 is finally available, some people remain reluctant to receive it. Gary explains why opting to have the jab is important.
"The key thing is: the vaccine is effective in protecting you," he says. "But it's also effective in protecting others, including people more vulnerable than you. I don't think that can be overstated."
Though the progression of the vaccination programme is at the front of Gary's mind, he can remember with clarity the many difficult days that came before. He takes me back to his memories of early 2020, when Covid-19 reached the UK.
"As a senior nurse and head of patient safety, I was involved in contingency planning," he recalls. "At first, we thought we might get just one or two coronavirus cases, and our thoughts were: How would we deal with that in hospital? What processes would need to be in place when the patient arrives?
"Then, when the UK had its first handful of cases, I was working shifts in hospital – in full PPE – testing people."
As Covid-19 swept the nation, the NHS ramped up its efforts to treat patients. Temporary hospitals – called Nightingale hospitals – were rapidly planned and constructed across the UK. Gary was asked to help set up a Nightingale hospital in Bristol. The team did it in 21 days.
"It was an amazing achievement," he says. "You'd walk into a room and everyone was working flat out to get the hospital ready. There were people from the army and all kinds of other backgrounds. I remember feeling very out of my comfort zone one day, thinking: What should I do and how do I do it? And the answer was: you just do it. Everyone worked together, putting in 100 per cent effort."
Though the past 18 months have proved challenging for Gary professionally, he tells me that he has taken great strength and comfort from his Christian faith. On the most difficult days, it has carried him through.
He says: "In the moments when I've been feeling frustrated or at my wits' end, I remember that people are in need of care and that it's my job to give it to them – and that's what Jesus did all the time. As a nurse, I have people to look after and I want to do that to the best of my ability. As a Christian, I try to make sure that everything I do reflects God's compassion.
"Being a nurse is part of my Christian service. And my faith is one of the factors driving me in the vaccination programme. When I think of Jesus, I think of how he reached out to everyone. In the same way, I want to make sure that the vaccine is available to everyone, because everyone deserves to get that protection. It doesn't matter whether I'm sat in a church hall one day jabbing 14 homeless people, or at one of the big vaccination sites, jabbing 500 people. Both are important. Every one matters."
Though Gary's faith has inspired his nursing for 30 years, he admits that there have been times over the past year when he has struggled to feel close to God. He has missed attending worship services at The Salvation Army's Bristol Staple Hill church, though he has connected online through its Zoom services occasionally.
"The pandemic has had a massive impact on people," he says. "And the question: "Where is God in all this?" is impossible for me to answer. I don't know where he is, in that wider sense. But do I know he is alongside me, supporting me and getting me through the things I have to do each day? Yes. I know that bit."
With thousands of people across the UK now partially or fully jabbed, many are hoping for a lockdown-free summer. Gary's hope is that people continue to show kindness to one another as the nation recovers from the life-changing effects of a global pandemic.
"My prayer for the future is that we build on the hope that the vaccine has given us and that we care for everyone who has faced loss," he says. "People have lost loved ones, jobs and stability. The impact of isolation has affected people's mental health. I pray that we keep caring for one another as we go forwards."
You can see the original article in full in the 12 June 2021 edition of The Salvation Army's 'War Cry' magazine.