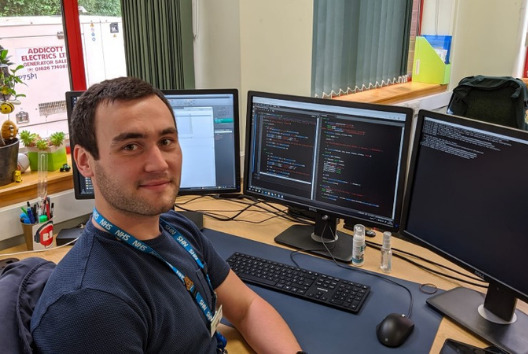 Spotlight
The importance of apprenticeships: Andy's story
Andy Mayne joined Somerset FT at the end of 2021 as an improvement and evaluation data science lead, following a number of years in NHS apprentice schemes.
With Andy now in a senior position at the trust, he reflects on how his career journey was very different to the traditional university undergraduate route. It all began when he finished secondary school in 2007.
"Like so many people I went to college after completing secondary school, but after a year I realised it just wasn't for me," he said.
"I didn't really enjoy what I was doing at college, so I instead joined the NHS on a year long apprenticeship scheme in the trust management team at Musgrove Park Hospital.
"I have always thought really highly of the NHS and some of my family members work in it. I like the rapport and team work aspect – it's a very supportive environment with many different avenues to take.
"Being able to help patients and having a genuine interest in wanting to improve services is the reason I became a data scientist so that goes hand in hand with a career in the NHS.
"Once I finished my first apprenticeship in trust management, I realised I loved working within the NHS, so I started a second apprenticeship – this time with our former urgent and emergency care division. During this time, I continued to progress my career, and then went to work in trauma research at our A&E department.
"Following this role, I moved to our clinical trials team where I became involved in diabetes research and then I went to work in our information department for three years.
"It was a rapid progression for me as between 2008 and 2016 I moved from being an apprentice to a Band 5 officer, which allowed me to get a senior position at the South Western Ambulance Service NHS Foundation Trust, where I began a degree level apprenticeship.
"I was then promoted to a Band 7 forecasting manager and in this role I won a Tech Industry Gold award for my work during the pandemic around predicting how it would affect the ambulance trust, such as ensuring we had ambulances in the right place to cope with it. You can read more about the research here.
"The next step of my career was promotion to a data scientist role and I recently spoke at the national public sector apprenticeship event.
"Following this I moved into a head of information services role, before I was asked if I would return to Somerset FT as an improvement and evaluation data scientist back at the end of 2021 – which I accepted."
Andy said he would strongly recommend the apprenticeship route to others thinking of a career in the NHS – whether in a clinical or non-clinical role.
"From leaving college and not going to university I still managed to reach the same place in the organisation that a more traditional route would have taken," he continued.
"I felt that the apprenticeship was an ideal way of getting on the career ladder as it targeted the areas I was specifically interested in. My daily work placement was in a data science role, while I was also studying the same field as part of my apprenticeship."
Andy's role as a data scientist involves looking at a type of analytics called 'predictive' and 'prescriptive'.
"The predictive side of my role includes predicting what would happen if certain things take place – for example forecasting the future demand on services.
"The prescriptive side involves machine learning – giving human-like thinking to a machine, such as simulation modelling where we try to build a virtual A&E department where we can test scenarios. A good example is how you can set an X-Ray machine to automatically diagnose a condition or be automatically able to tell if a person is at a risk of being re-admitted to hospital.
"Over the next six months I'll be working on a training package for the organisation to learn some of these concepts. One of the areas colleagues are particularly interested in at the moment is what happens to people in their last 100 days of life and where should they go in our healthcare system.
"My absolute aim is to bring data science to the whole integrated care system in Somerset, which includes teaching our executives and senior managers how it works, followed by data users."
For more information about apprenticeships in the NHS, go to the NHS Careers website.