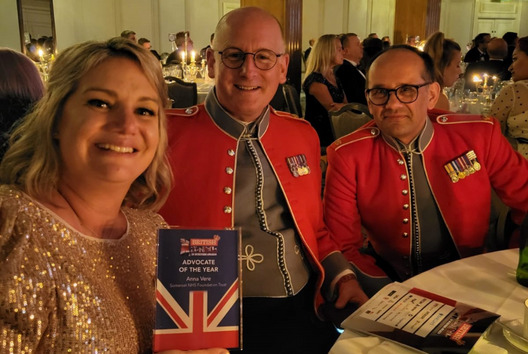 Spotlight
Triple military awards scoop for Somerset's NHS trusts
Somerset FT and Yeovil District Hospital have scooped three national military awards this month, beating stiff competition from hundreds of other nominations.
Both trusts were jointly named employer of the year in the English Veterans awards with our Armed Forces and Veteran Colleague Network chair Anna Vere winning a role model of the year award.
Anna was also named advocate of the year in the Ex-Forces in Business Awards. Her double award win is a testament to her work over the last 18 months to help embed the needs of military personnel and veterans in healthcare and to support her fellow NHS colleagues from the armed forces community.
Dave Thomas, our interim director of nursing strategy and transformation, said: "This 'employer of the year' award is testament to the work we've done over the last few years to improve support for our armed forces and veteran colleagues.
"In addition to a number of initiatives to support our armed forces patients, over the last couple of years we've set up a thriving Armed Forces and Veterans Colleague Network that has grown to 77 members.
"We've also introduced two weeks' paid leave and an additional two weeks' unpaid leave per rolling 12 months for reservists and cadet force adult volunteers to complete their duties."
One of the colleagues who played a huge role in the development of our Armed Forces and Veteran Colleague Network was Anna Vere – who is the network's chair.
Military service has shaped Anna's life from a young age. She grew up in a military family with her grandfather and father in the RAF, which she joined, aged 17, with her brother following not long behind.
She served for six years in the RAF's Trade Group 11 as a telecommunications operator – and was the first woman ever in her trade to be posted to 591 Signals Unit.
Anna served all over the UK and was deployed to Cyprus, before completing two operational tours in Kuwait and Oman. Her final posting was to Joint Headquarters Northwood in a tri-service role.
In 2004, Anna left the military to start a family. She was a military wife to a Royal Marine Commando, raising their young children while her husband carried out frontline tours until medical discharge in 2015 from injuries sustained during tours of Afghanistan.
Anna joined our NHS trust in 2011 and she is also our commercial development manager.
Nicola Lowe, our Armed Forces and Veteran Colleague Network vice chair, said Anna made an immediate impact when she became chair of the network by drawing on her personal experience to help others.
"Anna thoroughly deserves to win these two awards," she said. Everyone involved in our armed forces and veteran work is very proud of her achievements and the way our trusts have improved the experience of armed forces personnel and veterans who use our services.
"Within days of becoming a leader in our armed forces and veteran colleague network, Anna bravely and wholeheartedly volunteered to share her personal story of how she supported her husband's mental health recovery after his six military tours.
"She received personal responses that showed how her openness had helped colleagues feel safe to speak up and be more aware of the signs someone may be struggling with their mental health. Anna's story went on to gain interest from national colleagues who were keen to learn from this communication approach."
Within the first few weeks in her role as Armed Forces and Veteran Colleague Network chair, Anna established a regular virtual café for network members.
Fast forward 21 months and the popular virtual cafés are still well attended, providing a safe space to catch up, share news, reflect, spread what is working well, discuss challenges and generate ideas for improvement.
In the first few months of Anna's leadership in our armed forces and veteran colleague network, she worked at pace to help embed a 'Poppy alert' in our trust's patient care records.
The 'Poppy alert' enables clinicians to flag patients from the armed forces community within seconds of interacting with them.
In February this year, Anna was involved in a career insight event for the armed forces community, together with the Career Transition Partnership, which was hailed as a huge success.
A month later, Anna helped to secure the addition of Cadet Force adult volunteers to our trust's policy for special leave. It means that colleagues who volunteer with Cadet Forces now benefit from 10 days' paid leave and an additional 10 days' unpaid leave per rolling 12 months, to support completion of their duties.
Anna has taken great interest in collaborating with our local military units and is currently working on developing a new partnership with the Taunton Air, Army and Sea Cadets and resettlement officers from military units within the area.
"Day to day, Anna is a committed and dedicated voice of inclusion for our armed forces community," added Nicola. "She volunteers to join interview panels and attends operational and executive level meetings.
"Anna raises the profile of key issues and builds strong working relationships with colleagues of all levels from a wide range of health, social care and charitable organisations."
Justine Clayton, welfare officer for the Defence Medical Welfare Service in Somerset, first met Anna when she needed personal support at a time of crisis.
"Over the course of the last two years, it has been a privilege to see Anna's confidence grow and to see her use her vast experience and knowledge to become chair of the armed forces and veteran colleague network – a role she is exceling in," she said.
"Anna is the third chair I have worked with, but her passion, determination and understanding of the needs of the military community locally means the network has grown, developed and become highly respected due to her leadership."