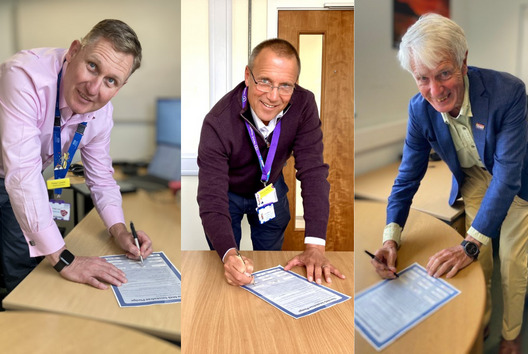 Spotlight
Trusts' leaders sign the NHS Smokefree pledge
As part of our commitment to helping smokers quit and providing smokefree environments that support them, senior executives at Somerset FT and Yeovil Hospital have signed the NHS Smokefree Pledge.
Chief executive Peter Lewis, chief medical officer, Dan Meron, and our trust chair, Colin Drummond, took the step of signing the pledge, demonstrating how seriously they take their responsibility in improving health across our county.
As part of this pledge, our new tobacco reduction team will be working throughout both trusts, focusing on supporting patients and colleagues. It will also create environments that support quitting through improving our smokefree policy, as recommended by NICE. We will also convey consistent messages about harms from smoking and the opportunities and support available with the introduction of the trust's new tobacco reduction programme which launches in January 2023.
Martin Lever, our tobacco reduction programme manager, is wasting no time getting Somerset on track. He said: "I am delighted that our trusts in Somerset have signed up to the Smokefree pledge. We are absolutely committed to meeting the targets and improving the health of our population in a supportive and non-judgmental way. I know from my years working in this field how hard it is to take the first step to quit smoking, but I want those thinking about quitting to know, support is available, and you can do this.
"We are here to support and work out the right approach for you, whether that is stopping smoking or cutting down prior to a quit attempt."
Treating tobacco dependency among patients and colleagues who smoke, in line with commitments in the NHS Long Term Plan, and Tobacco Control Plan for England, will ensure that smokers within NHS settings in Somerset have access to the nicotine replacement therapy or vapes that they need to quit in line with NICE guidance on smoking in secondary care. When combined with the behavioural support on offer, smokers are three times more likely to quit smoking for good.
Professor Yvonne Doyle, medical director for public health, said: "NHS England recognises that smoking is a leading cause of health disparities responsible for half the difference in life expectancy between the most and least deprived groups in society. The NHS has a key role to play in ending these disparities. Working alongside our colleagues in local government we will strive to make smoking history in the next decade and help deliver the Government's smokefree 2030 ambition."
Hazel Cheeseman, deputy chief executive for Action on Smoking and Health (ASH), a leading health inequalities charity, said: "Smoking is the leading cause of preventable death across Somerset and costs the county £149m each year. Therefore, it is fantastic to see them recognise this terrible burden and the role the NHS Smokefree Pledge can play in creating a smokefree future for patients. By making this public commitment to action, they join trusts across the country who have pledged to play their part in our smokefree future."
The NHS Long-Term Plan is driving efforts to reduce smoking prevalence, reduce health inequalities and increase life expectancy by reducing the burden of tobacco-related disease.
More than 700 Somerset residents died every year as a direct consequence of smoking (data from Core20PLUS5 NHS England approach to reducing health inequalities) with more than 5,000 hospital admissions in Somerset attributable every year.
Within the Long-Term Plan, smoking is seen as a chronic, relapsing medical condition, not a lifestyle choice, requiring treatment just like any other disease or illness and Somerset FT, along with our ICS partners are leading efforts to tackle the significant health inequalities associated with smoking, head-on across acute, mental health and maternity pathways.