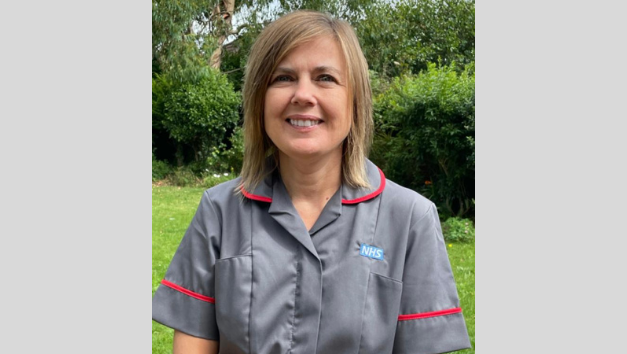 Spotlight
Turning the racecourse into a large vaccination centre – Helen's story
In January 2021, Taunton Racecourse morphed into a large vaccination centre to support the accelerated roll out of Somerset's COVID-19 vaccination programme. Open seven days a week, from 8am to 8pm, the team of vaccinators, colleagues and volunteers worked tirelessly to deliver thousands of vaccinations to people in Somerset.
Helen McEvansoneya, our associate director of patient care - primary care and neighbourhoods, took on the role of lead for nursing and quality on the programme, as well as clinical manager at the Racecourse site. She has recently moved back into her role at Somerset FT, but here she reflects on the unique and complex journey of turning the accommodation at Taunton Racecourse into a large vaccination centre and what it has meant for her to be involved:
Behind the scenes
"My background is as far removed from the vaccination programme as you can probably imagine. As head of older person's mental health within the primary care and neighbourhood directorate, I was overseeing teams caring for older inpatients, and patients out in the community – I had a huge amount to learn.
"My feet didn't touch the ground from November 2020 until we opened the centre in the middle of January 2021. It was probably the most all-consuming piece of work that I have ever done. At the start of the national vaccination programme, things would change so rapidly – everything we did had to follow national policy, governance, and guidance.
"The whole process of delivering vaccinations was completely new to me. Some of my colleagues on the programme had previously been involved with other immunisation programmes such as the flu vaccination, so the guidance was more familiar to them. However, we had to set up a completely new programme and everyone was breaking new ground.
"I had only been in the programme for a couple of weeks when I was asked to take over the management of the large vaccination centre at Taunton Racecourse. We were setting up clinical processes in a non-clinical environment, and lots of processes had to be put in place such as; meeting health and safety, infection control and pharmacy requirements.
Turning the racecourse into a large vaccination site
"To make the racecourse a safe environment in which to deliver vaccinations we had to meet strict infection control criteria. The floors were carpeted, and the furnishings were not in-line with clinical equipment. We had to order lots of different things, work out car parking, get the marshalling right, and continually evolve processes as we went along.
"Things were changing by the minute - for example, we didn't know until a short time before we opened our doors for the first clinic, which vaccine we'd be giving. We had to be prepared for anything really.
"What I can say is that the team at the racecourse were incredibly helpful and we all worked together.
The challenges of staffing vaccination sites
"Staffing the vaccination programme was by far one of the biggest challenges. Some roles were easy to fill, but others, such as registered nurses, were much more difficult. You could never be certain which vaccine you would have in two weeks' time, so it was difficult to know how many people you would need. We were constantly trying to juggle the appointment slots and match them with staff availability.
"We had to get everybody trained, and people had to have specific training to handle each vaccine. Then everyone had to be signed off as competent before they could carry out a single vaccination.
The first day of vaccinations
"We were all quite emotional on the day we opened the vaccination centre. The first group of people who came through the door were the older age group – most of them hadn't been outside of their homes since March 2020. These were vulnerable people, who dressed up for the occasion because it was an outing for them. They were all so incredibly grateful. Finally, there was the possibility of seeing their families again – the relief for them was enormous. They could see that the only way out of the global pandemic was to vaccinate people.
"On the first day, we had a 99-year-old lady who hadn't been out of her house since lockdown – it was just incredible! Getting vaccinated meant, and continues to mean, so much to the people who receive it.
Working with the Nelson Trust in Bridgwater
"As my role was also the lead for nursing quality across the programme, I was involved in the wider challenges of the programme and one of these was to help harder-to-reach communities. We had a roving model where staff from the Racecourse vaccination team would go out to some of the community groups to vaccinate them.
"The Nelson Trust in Bridgwater is a women's group that we went out with one evening. We hand-picked the vaccinators with specific communication skills to go out and speak to and vaccinate this group of women. Some of the women found the decision to take up the vaccination a tricky one, so we held a group session with them to talk about the vaccination and then gave the vaccinations to those that wanted one. These women would never have come to a vaccination centre.
"We did this outreach after normal hours in an evening group, working together with the Nelson Trust who would look after the women's children while we vaccinated. It was a really good piece of work. We also sent out people to wards such as the mental health inpatient wards to give vaccinations.
Moving on from the vaccination programme
"I've now moved back into my substantive role at Somerset FT. It was hard to leave the vaccination programme because my intention was to see it through and get all the over 18s vaccinated and say, 'right we've done this!'.
"One of the highlights on the vaccination programme for me is that we have seen a huge number of nurses come out of retirement. They wouldn't have gone back onto a ward, it's not what they wanted to do, but they have loved helping in the vaccination rollout. The vaccination centre at Taunton Racecourse is a genuinely happy place to be and the nurses love it up there!"