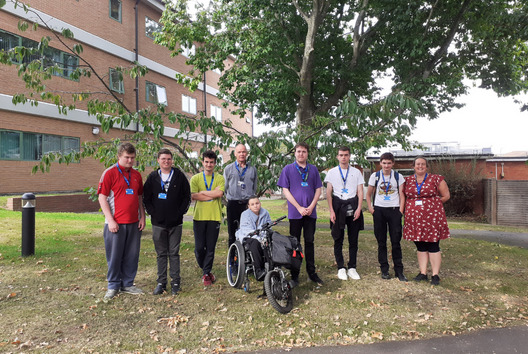 Spotlight
Welcome to the class of '23: our new Project SEARCH interns
This autumn we were pleased to welcome our new intake of 10 Project SEARCH interns, as well as a new face on the teaching side – Bridgwater and Taunton College lecturer Lindsey Reynolds.
Project SEARCH is an educational internship for young adults between the age of 16 and 24 who have learning difficulties or additional support needs – those who take part must have an educational health plan.
Our 10 new colleagues have been deployed to the many areas of the hospital that have hosted Project SEARCH interns in the past, such as facilities management, Musgrove Park Academy, Eliot ward and our acute medical unit.
And this year there are additional opportunities for interns within the Somerset Larder on site café, Parkside Private Unit, Triscombe ward, cleaning stores and theatre stores.
Lindsey said he was very excited to welcome our new interns and that he's confident they will make a positive impact across the hospital.
"All 10 of our new interns are individual people with so many diverse strengths," he said. "I've been lucky enough to work with all of them so far on other schemes so I can see how much they've progressed over the years.
"At the end of the day, Project SEARCH is all about getting jobs for our interns and it would be fair to say that a couple of years ago some of them simply didn't believe they could ever get a job, or they just weren't interested.
"But actually, being at the hospital and having a job – not just a morning once a week job, but every day – is quite a challenge but something they really love.
"It also gives our interns a crucial social aspect in life and the opportunity to form with friendships. I'd say they actually tend learn more from each other than anything – the chit chat about their respective days is worth the wait in gold to them."
Maria Nicholls, who has returned as the project's job coach, said:
"It has been great getting out and about in the different hospital departments with our interns to help them learn key skills.
"All three placements that an intern takes on has a very different skill mix attached to them too. One of our interns wants to become a healthcare assistant, and I know he'd want to do that job all year if he could, but it's important to offer the variety as it opens their eyes to so many different opportunities that they may not have even thought about.
"On day one of the interns' placement at Musgrove, we asked them to make a list of the professions in the hospital. The only jobs they could think of at that time were a doctor and a nurse.
"But I'm confident that if we asked them now, they'd be well aware that a large number of colleagues at the hospital aren't actually doctors or nurses.
"It's really important that they recognise this as they're basically using the course to look for a job in the future, and to actually realise that there's a lot more to a hospital is really helpful for them.
"We always try to match each intern with a job that's suitable for them and their skill level. We support them daily and can also provide support to the hosting department or team too as we'll know everything about each individual intern.
"Every intern that takes part in Project SEARCH has gone through an interview process before being accepted on the course, and that includes completing background checks. Many have successfully completed work placements away from the hospital in their last year at college too.
"Project SEARCH is a stepping stone into work with interns looking for paid employment towards the end of their year on the course. A number of previous interns have secured jobs at the hospital during their time with the project."