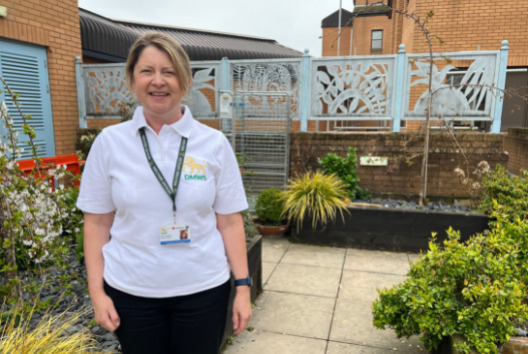 Spotlight
Welfare service extended for military patients and families
More military patients and families in Somerset are now able to get additional support thanks to our partnership with the Defence Medical Welfare Services (DMWS) charity, which has been going from strength to strength.
The DMWS charity plays a vital role in helping members of the armed forces community to safely return home when they no longer have a medical need to be in hospital.
In 2020 Justine Clayton was appointed to the role of welfare officer, with a specific focus on community services and mental health, and this month we're pleased to welcome Emma Sanders to a similar role where she will work with patients at Musgrove Park Hospital and Yeovil Hospital.
Another colleague, Jo, is also set to join the team this spring.
Emma, who is fresh out of the military having served with the Royal Navy in a similar role until January this year, encouraged colleagues across Somerset FT and Yeovil District Hospital to ask every patient the simple question of whether they are serving or have served in the military.
"We act as a point of contact between the hospital ward and the patient's military unit (if they are currently serving), or for veterans we are that point of contact to put them in touch with the services they need," she said.
"People with a military background don't always know what support is out there in the community, and sometimes they don't want to ask questions of the doctors as they see them as a figure of authority. We are here as an advocate to ask those questions that they may not feel comfortable asking themselves.
"We can provide bedside visits and telephone support to patients, as well as practical help such as bringing in toiletries and clothing.
"We're also able to support with outpatients too by sitting with a person while they wait for their appointment to ease their anxiety.
"I have worked at both the Royal Navy 40 Commando and Yeovilton, and I live in Taunton, so I know the area and those units really well.
"My message to colleagues on our wards is to ask your patients the question: 'are you in the military or a veteran?' If they are, then give us a call or drop us an email and we'll come to see them and have a chat.
"It's as simple as that – no form filling or referrals. Just ask the question and identify those individuals."
Justine, whose focus is on military patients and their families being cared for by our community services and mental health services, said she was pleased to welcome Emma and Jo to the team.
"Since joining the trust two years ago as a welfare officer I have found that the demand and need for support for our military community across Somerset has been very high," she said.
"I'm delighted to welcome Emma and Jo to the team. They'll be able to help support veterans and serving military across the trust while they are having medical treatment.
"Being a veteran became a protective characteristic at the start of this year, so it is really vital that you ask your patients if they have been in the military as not only do we have a legal obligation to do this, but you'll also be able to access the support of Emma, Jo and me to help you with your patients while they are staying in hospital."
Dave Thomas, our interim director of nursing strategy and transformation and chief nursing information officer, said: "It is great that we can welcome Emma now, and Jo in the near future, to bolster the support to our military family when they require the services of the NHS.
"We recognise the unique requirements of the military family and as such, our partnership with the DMWS will strengthen our ability to react in the right way to our patients who form part of this group."