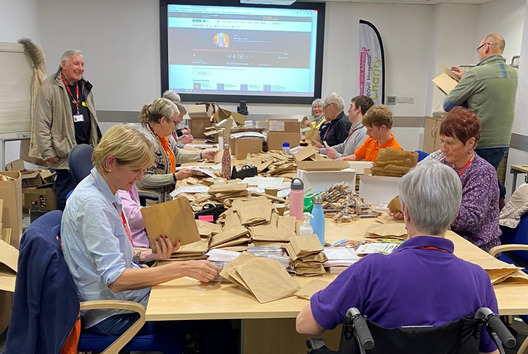 Spotlight
Wellbeing 'pick me up bags' make their way across Somerset for NHS colleagues
Wellbeing 'pick me up' bags are making their way across the county to all colleagues at Somerset FT and Yeovil Hospital - giving everyone a little boost!
Throughout March and April, the bags are being shared across our hospitals, units and services, with each gift bag including items to make a hot drink, a biscuit or gluten free cake, a wellbeing item, and a leaflet signposting support available to all colleagues.
The bags are being put together by the health and wellbeing team at both trusts, as well as the fantastic volunteers at Yeovil Hospital, who are giving up their Sundays to ensure everyone gets a bag.
Speaking about the initiative, our health and wellbeing and volunteers manager, Sarah Cherry, said: "We have plans in place to reach absolutely everyone who works across the two trusts.
"Our volunteers have been amazing in coming forward to offer their time for this, and with 13,000 bags to make up, it really is a huge task! We meet in the board room at Yeovil Hospital every Sunday, put on some music, and spend the day putting the bags together. They'll reach all our colleagues over the new few weeks, so those who haven't received one yet can look forward to it coming.
"We have run similar initiatives at Yeovil Hospital for a while, starting during the pandemic, and they really made people smile. Since the summer, every Monday at Yeovil Hospital we have a box of pick me up bags that individuals can come and help themselves to, or managers can take a couple for specific team members, and it has been really popular. As the two trusts join together, we wanted to build on this and find a way to share these little bags wider, so colleagues across the county can be included."
Thank you to all our volunteers who have supported this huge task - an incredibly kind gesture which will hopefully put a smile on lots of faces over the coming weeks.