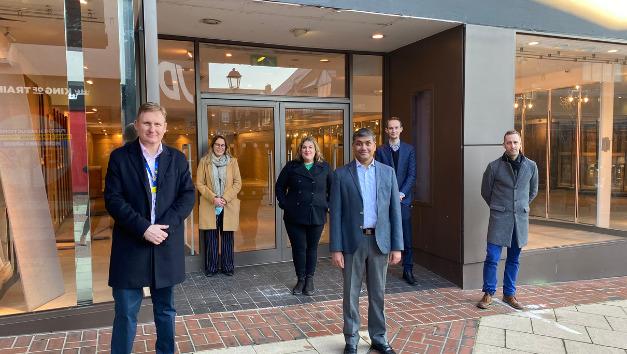 Spotlight
Work starts on new ophthalmic diagnostics centres in Somerset
Ophthalmology patients in Somerset will soon be able to get an assessment at two brand new diagnostic centres in Yeovil and Taunton.
The multimillion pound project has been partly funded by NHS England and both centres are expected to open for patients in Spring 2022.
The Yeovil centre will be based in the previous Monsoon retail unit on Middle Street in Yeovil Town Centre – opposite Boots Pharmacy and the Taunton centre will be located at Blackbrook Business Park – near Junction 25 of the M5.
The new centres will be able to carry out investigations for our retinal and glaucoma patients. Between them they will have the capacity to see over 20,000 patients a year in a one stop shop where they will be able to have tests and images taken in the same appointment.
Ophthalmology is the highest volume outpatient specialty in the NHS and demand for the treatment of eye care areas, such as glaucoma, cataract, retina and urgent care, is predicted to rise by 60 per cent in medical retina and 44 per cent in glaucoma over the next 20 years.
Operating these centres will help to tackle a growing waiting list and will reduce the delays patients have experienced over the last two years as a result of the pandemic. It will also help to meet the challenge of the expected future demand on the service.
Peter Lewis, our chief executive, said: "We are pleased to be able to invest in these two new ophthalmic diagnostic centres in Yeovil and Taunton for our patients.
"The centres will provide patients across the whole of Somerset with better access to eye care. Somerset has an ageing population and the number of ophthalmology patients with retinal or glaucoma conditions increases with age.
"We also have one of the largest waiting lists in the country due to our patient demographic so these centres will enable us to see and treat more patients and reduce our waiting lists."
Mr Edward Herbert, one of our consultant ophthalmic surgeons, said: "This is a great step forward in delivering eye care across Somerset. We have been running imaging assessment clinics in the main hospital for a number of years and have found significant advantages.
"With defined pathways the clinics tend to run much more on time than a standard clinic and the length of time each patient needs to be in the unit is much shorter. Access to the clinic is also expected to be a good deal easier than the main hospital.
"Expanding these clinics off-site will help us catch up with the backlog from the pandemic and meet the future rising demand."
Mr Pari Shah, a consultant ophthalmologist at Yeovil Hospital said: "We are so excited that the work on this project is about to start. These new centres will be able to provide patients better ophthalmology care across the whole of Somerset. Running these centres off site will mean that patients will be able to get numerous tests and images in one appointment and may not need to attend the hospital clinic."
The work at both centres is being undertaken by Speller Metcalfe, which completed Yeovil Hospital's new residential accommodation for staff last year.