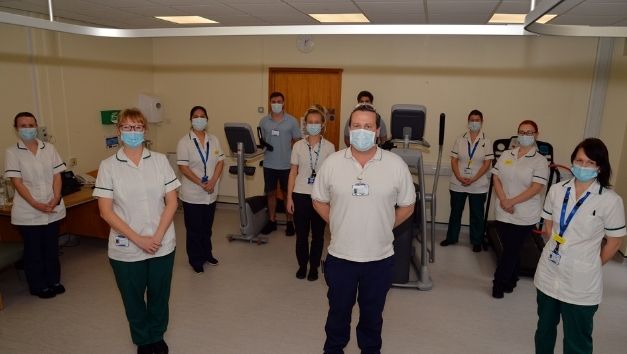 Spotlight
Working together to help our patients avoid a stay in hospital
This week marks one year since we merged to become the first trust on the English mainland to provide community, mental health and acute hospital services.
Colleagues from different parts of our trust have seen first-hand what can be achieved when services are integrated and this has been even more important as we face the unprecedented challenge of a pandemic.
Our services are working more closely together without organisational boundaries so we have been able to develop a number of new services that have helped people to return to their normal place of residence more quickly after a stay in hospital, while helping others to avoid a hospital stay altogether.
In 2020 we introduced a new short stay frailty assessment unit that helps our elderly and frail patients return home to their familiar surroundings more quickly with the right level of support.
Dr Peter Campbell, our care of the elderly consultant, said:
"Every month we see about 1,000 people aged over 75 at our emergency department and historically 7 in 10 have been admitted to a hospital ward.
"Over the last year we have changed the way we care for our elderly and frail patients by introducing a short stay frailty assessment unit, which we opened earlier than planned due to the COVID-19 pandemic and the need to care for patients outside of hospital.
"Elderly and frail patients can now be assessed by a geriatrician, specialist nurse and therapist as soon as they arrive at hospital, helping avoid an overnight stay where possible so they can return home with appropriate care from our community services teams.
"Our geriatrician reviews the patient's medication and develops a plan of care and our therapists look at the patient's mobility and their risk of falling. Our team of specialist nurses also review the patient's cognitive behaviour with specific dementia and delirium assessments.
"We know that some patients will need to be admitted to a hospital ward, but thanks to our new service they are more likely to have a shorter stay in hospital.
"Hospital is the best place to be for people who are very ill or need surgery, but studies suggest the best place to recover is at home. Staying in hospital too long can result in poorer health and longer recovery times, and it is also important that beds are available for those who need hospital care.
"Our community services and hospital teams working together under one NHS trust has been crucial in helping us to free up inpatient beds so colleagues on our wards can care for patients who need a stay at hospital.
"The COVID-19 pandemic has meant that we have all had to change the way we work. Due to the pressure on the hospital, and the need for inpatient capacity, we had a period where we changed the frailty unit area back into an inpatient ward. Now that the pressure is hopefully settling we are relaunching the service and look forward to getting it back up and running."
Alongside our frailty assessment unit, our joint emergency therapies team (JETT) – which is a team of physiotherapists, occupational therapists and therapy technicians – is helping patients who are medically-fit return home from hospital on the same day.
Nathan Hill, Team Lead for JETT, said:
"In the nine months from April 2020 to January 2021 our JETT has seen a total of 2,976 patients through our emergency department (A&E), acute medical unit and short stay frailty assessment unit. During this time we have helped to prevent 2,004 patients from being admitted to hospital – an average of 202 patients a month. This is the equivalent of seven full hospital wards every month.
"Also 972 patients (equivalent of 3.5 wards per month) had their therapy assessment and discharge planning started when they arrived at the hospital, which can help to reduce the time they need to spend on a hospital ward.
"Not all patients are ready to leave hospital straightaway, but we begin talking with them to plan a return to their usual place of residence as soon as they arrive at hospital. By doing this we get a sense of the patient's history and what our therapists can do to help when they are ready to leave hospital – such as discussing the support available if appropriate or organising equipment for their home.
"Thanks to our merger we are able to work seamlessly with our rapid response service colleagues in the community, who take over the patient's care once they are ready to leave hospital to return their usual place of residence.
"The number of patients we have referred to our community hospital inpatient units has dropped over the last 12 months and that's mainly thanks to the excellent intervention by our rapid response colleagues, who visit the patient very shortly after they return home to assess the level of support they need.
"Our next step for JETT is to boost the service that we are able to offer on the weekend so we can move towards supporting patients seven days a week – it will be a real game changer for us."