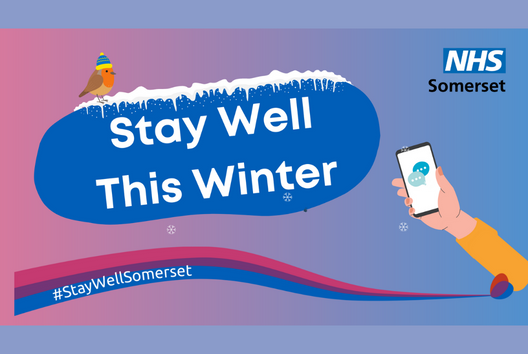 Spotlight
Your guide to local NHS services over the festive period to help you stay safe and well
With Christmas Day and New Year's Day falling on a Sunday, people in Somerset are reminded that GP practices will be closed on Monday December 26, Tuesday December 27 and Monday January 2.
During this time there will be a wide range of local NHS services available. From pharmacies open on Christmas Day to NHS 111, which is open 24/7 every day, and a range of alternative services available. However, a little preparation before the festive break will help you stay safe and well and help reduce the pressure on our already strained NHS services and staff.
Dr Bernie Marden, Chief Medical Officer at NHS Somerset, said: "Medical help and advice remains available throughout the holiday period. With many parents aware of the increased rates in scarlet fever and Strep A, I urge them to visit NHS 111 online or by phone if they have any concerns about symptoms their child may be experiencing.
"If you have an urgent medical concern when your GP is closed go to NHS 111 or call 111. Trained advisors can provide advice online or over the phone and direct you to the best place for the care that you need.
"Choosing the right service means you'll get the right care, often more quickly. It also helps us ensure emergency care is available for those who need it most.
"COVID and flu remain prevalent, and cases will increase over the coming weeks as we spend more time indoors socialising. Vaccination offers the best protection both to yourself and those around you and everyone eligible is urged to take up the offer."
Michael Lennox, CEO of Community Pharmacy Somerset, said: "Being prepared is undoubtedly the best course of action, such as by having the medicine cabinet basics at hand to deal with indigestion, hangovers and winter coughs and colds.
"Make sure you have enough prescription medication to last over the holidays, bearing in mind it takes time for your GP practice to process a repeat prescription request and for your pharmacy to dispense.
"Our pharmacies in Somerset will be open in the run up to the Christmas and New Year holidays, with an extensive opening rota on the public holiday days too."
Michael Paynter, a consultant nurse at Somerset NHS Foundation Trust, said: "The demand for health and care in Somerset is at an all time high, so it's more important than ever that we use the right service to meet our needs, helping to keep our emergency services free for those who need them.
"We have four large minor injuries units (MIU) in Somerset at the community hospitals in Bridgwater, Frome, Minehead and West Mendip (Glastonbury), which can treat a range of injuries and illnesses, such as broken bones, wounds, minor burns, minor illness, minor eye conditions, minor head injuries (unless on blood thinners) and emergency contraception. We also have three smaller MIUs at the community hospitals in Burnham-on-Sea, Chard and Shepton Mallet – those units are currently operating reduced opening hours – more details on www.somersetft.nhs.uk."