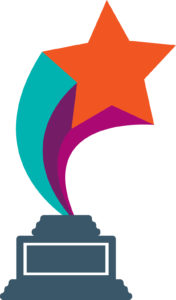 Each year we celebrate Volunteer' Week giving us the perfect opportunity to thank over 500 volunteers across the Trust, that give up their time to help out our patients, visitors and staff.
We have a variety of volunteers from all walks of life experience and backgrounds. From young college students, retired people and even a few members of staff.  Ranging between 16-93 years of age. Between them, the Volunteers give over 100,000 hours of volunteering every year.  The volunteers truly make a huge difference to the social care and experience of our patients and their families.
Here are a few stories and experiences that some of our Volunteers are happy to share.
Crewkerne Community Hospital – Cyril
Volunteer Cyril first came to Crewkerne Hospital when his wife was very ill as an inpatient.  He would sit with her every day.  When she sadly passed away, Cyril had built such a good relationship with colleagues at the hospital, that he decided to come in as a volunteer.  He has been with Crewkerne Hospital ever since, around 8 years.  In the summer Cyril brings in bunches of roses from his own garden for colleagues and he even handed them through the windows during the pandemic when he was not coming into the hospital to volunteer.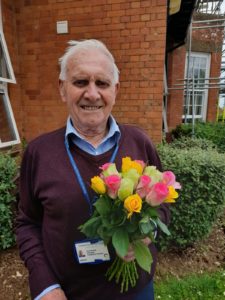 Cyril with his beautiful roses.  Thank You Cyril!
Anne and Derek – League of Friends Shop
Both Anne and Derek have volunteered for the League of Friends shop and also the trolley service for many years.  On returning to their roles following the pandemic, they said: "We've realised just how much we have missed being here, since we've been back.  It was a large part of our lives and it is wonderful to be back among patients, visitors and the wonderful colleagues at the hospital.  A huge thank you too, you the colleagues that did such a sterling job of keeping the shop going – it's always a pleasure to arrive at the shop early in the morning and be welcomed by the lovely smiling staff."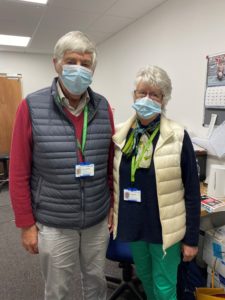 Anne and Derek, masks on, ready to serve in the shop.  Thank You Anne and Derek!
Meet and Greet Volunteers – Musgrove Park Hospital
The Meet and Greet volunteers were the first team to return following the core parts of the pandemic.  They have been stoical and willing to get back to what they do best and we cannot thank them enough for their enthusiasm, welcoming faces and cheery smiles.
"I am very pleased to be back volunteering at Musgrove, plus I have great volunteers with me."  – Win
"Stopping volunteering during lockdown was such a big wrench but thank goodness I volunteered as a Marshall for the vaccination programme, with a few months being in the marquee at Musgrove so that was a nice transition period.  It is so lovely to be back and I don't know if it is my imagination, but the patients seem more grateful and thankful to have our meet and greet serve." – Pat
"Having to stop volunteering when lock down came in and having been in a variety of positions on and off for 50+ years I was lost.  Coming back in to the League of Friends Shop I decided to join the Meet and Greet volunteer team and love every minute of it.  The variety is amazing and so needed in a hospital with challenges of different levels and buildings.  I combine the League of Friends Shop with Meet and Greet, so double the volunteering pleasure." – Margaret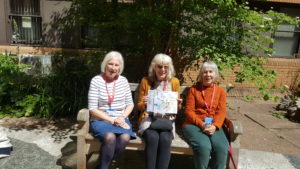 June, Alice & Jackie – our newest Meet and Greet Volunteers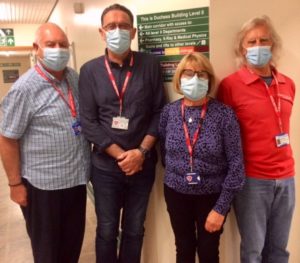 Terry, Tony, Win & Pete – Some of our long serving Meet & Greet Volunteers
The Meet and Greet Volunteers not only escort, direct and help out our patients and visitors, they often are asked to be part of projects that require some extra help…
Last winter 2021, they helped in the Flu Clinic, welcoming colleagues, pre-triaged them by going through the information sheet and keeping everyone company while they waited for their injections.  "The volunteers played an important role at these clinics by welcoming and assisting, finding NHS numbers and generally helping out.  A huge thank you to you all and we look forward to seeing you again to help out for this year's Flu programme!!" – Maggie, Flu Clinic Lead
In 2020 before the Gel and Mask station were installed they helped out alongside staff to encourage everyone coming into the organisation to wear and mask and gel hands. "It was great to be back volunteering, even if it was only for a short while to offer masks and gel to protect everyone coming into the hospital." – Belinda
Thank You to all our Meet and Greet Volunteers, you are amazing!!
A huge thank you to all our volunteers and we look forward to welcoming all our volunteers back soon.