Use your Open Athens account to access content from healthcare journals.
Copying or printing an article must be within copyright legislation; see the Copyright page.
Which journal titles are available electronically?
BrowZine collects together nationally and locally procured print and electronic journals. Click on the link, browse by topics or type in the journal title you are looking for, then log in with Open Athens.
Access our subscribed content straight from your browser.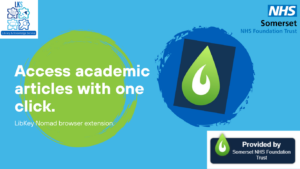 Access our subscribed content with the browser extension LibKey Nomad. With one click, you can access articles and other subscribed content when searching Google Scholar or PubMed.
The browser extension is accessible on all Trust computers.
Follow the step-by-step guide here.
What if  I cannot access the article I want?
Request a copy of the item you need using our article request form. You can only request one article per journal issue unless it is a special supplement.