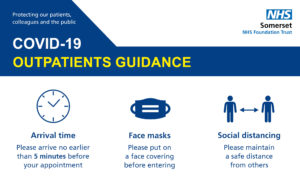 Update to appointments – Thurs 5 Nov
If you are coming for an outpatient appointment, please come alone as we have limited space in our waiting areas. Exceptions can be made if the nature of your appointment means you need someone to be with you or if you require the support of a carer.
Please remember to wear a face covering when visiting our hospitals and units for appointments, and try to attend as close to your appointment time as possible to limit time spent in waiting areas.
Cancellations
Please ensure you keep your appointment, or if it is no longer required please let us know.
Changing or cancelling an appointment
If you are unable to attend your appointment please call the number on your letter and let us know in advance so that we can offer your slot to another patient, and allocate you a new appointment. Should our phone lines be busy, please select the call-back service option and we will get back to you.
You can also cancel your appointment should you need to by emailing appointments@tst.nhs.uk with the following details:
Name
Date of birth
Hospital number (if you know it)
Address
Details of the appointment you wish to cancel and why.
If you require a further appointment please let us know and we will try to arrange this and get in touch with you to arrange a new slot.
Please do not use the appointments email address for any other reason than to cancel an appointment.
e-Referrals Appointments
If you have been referred to hospital or a clinic through the NHS e-Referral Service, booking your appointment online is easy, safe and secure.
You'll need:
the booking reference number stated on your booking letter
the password or access code you were given by the person or organisation that referred you (for example, your GP practice)
If you have been referred but don't have your booking reference number or a password or access code, please contact the person or organisation that referred you.
How to book your e-Referrals appointment online
If you need help choosing, booking, changing or cancelling your appointment, you can call the e-Referral Service Appointments line:
0345 60 88 88 8 (Weekdays 6.30pm to 8pm, weekends and bank holidays 8am to 4pm)
Please note the line is closed on Christmas Day.
Textphone: 0345 8 50 22 50
Book / Rebook / Cancel your e-Referrals appointment online 
Reminder Service
We provide a Did Not Attend (DNA) reminder service, which will call you to remind you 7 days prior to your appointment. On this call you can confirm, decline, or re-arrange your appointment. The service will then call again at 5 and 6 days prior to your appointment. Please note it will call both your mobile phone and home telephone numbers, and is unable to leave messages on answer machines.
Netcall Call Handling
At Musgrove Park Hospital we use the Netcall Call Handling system. This system allows a "call me back" function, if we are busy. When choosing this option you will keep your place in the queue and we will call you back.
Please note all calls are recorded for training and quality purposes.
Access Policy
As part of the NHS Constitution, Musgrove Park is committed to ensuring that no patient should wait longer than 18 weeks for hospital treatment. This starts from the time you are referred from your GP, to the point you are discharged from our care. This commitment is known nationally as Referral to Treatment (RTT) and our management of RTT is set out in our access policy.