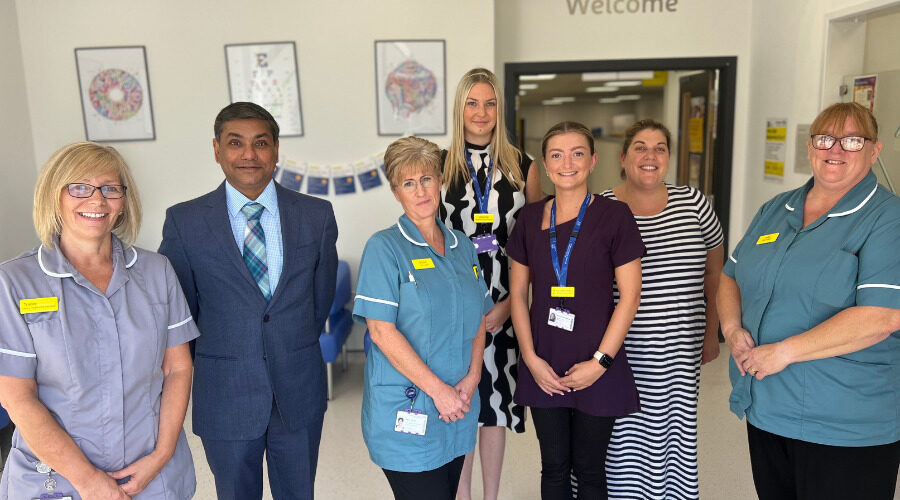 Spotlight
A spotlight on our Yeovil Ophthalmology Diagnostic Centre
This week (18-24 September) is National Eye Health Week and we're shining a light on the amazing work that's been done by our colleagues at the Yeovil Ophthalmology Diagnostic Centre since it opened in June 2022.
Mr Paritosh Shah, one of our consultant ophthalmologists and clinical lead for the centre, explains how the idea of a town centre based ophthalmology centre came about.
"The idea of opening this type of diagnostic centre in Yeovil originally came from a similar set up we'd seen in Manchester City Centre," he said. "It took ophthalmology tests away from the busy hospital setting to a place that's so much easier for people to drop into.
"During the COVID-19 pandemic we weren't able to see as many patients as normal due to all the necessary restrictions, which created a backlog in appointments across the country, leading to increased waiting times – not something we want for our patients.
"The opening of our new centre really came at the right time, as we could see our patients, complete their diagnostics, and put in place a treatment plan in a timely manner, without them needing to go into the busy hospital.
Emma Watson, one of our healthcare assistants at the centre, said she's heard so many great things from patients about the centre.
"The feedback we've had from patients in the first year or so has been great, with most saying they love how convenient and calm the atmosphere is," she said.
"It's also good for the town centre too, as we bring footfall to the area, with lots of patients stopping at nearby cafes for a coffee or bite to eat, either before or after their appointment – it's nice for patients and their relatives to relax too."
As we came out of the pandemic, we had about 2,750 patients waiting for an appointment by June 2021 and this was likely to grow if nothing was done about it.
"Once we opened our centre in June 2022, this list gradually reduced and we've actually had a waiting list of zero since March 2023," Paritosh continued.
"This is a real testament to the amazing efforts of colleagues in our ophthalmology team – in total we are now seeing about 200 patients a week at the centre.
"Most of the patients we see either have a retinal or glaucoma problem, although we are looking to expand into even more sub-specialities in ophthalmology in the future, so we can make the best use of this great space.
"A similar centre at Harrison House in Taunton opened at the same time, which has proven a huge success so far – now that we're one merged trust it's great that we can learn so much from each other."
Anna Bateman, lead nurse at the Yeovil Ophthalmology department, said it was not just the patients who love the new centre, but our colleagues too.
"Colleagues in the team who work here are really enjoying it, as they particularly like being able to see through their patients' journey from start to finish," she said.
"We always try to keep the same healthcare assistant for each individual patient as it's reassuring for them, and they tend to open up more and talk through any problems they might be having.
"We're looking at expanding the colleague wellbeing support at the centre too and Emma (Watson) has already started to create a wellbeing corner where colleagues can have somewhere to go for a time out when they need it.
"From a training point of view, it's really good too, as we can take new colleagues through the training for all of the tests that they'll need to carry out on our patients.
"Emma and the team do a great job in mentoring other colleagues, and as they're exposed to so many different types of patients at the centre, they're ready to work in other ophthalmology areas in the main hospital too.
"We operate a joint staffing team between the three locations that we run ophthalmology services in South Somerset and West Dorset – in the Quedam Centre, Yeovil Hospital and Yeatman Hospital in Sherborne. This means we have greater resilience within the team, as well as being able to have the right skill mix at all the three sites – it works really well for us."
Drop-in day at the Yeovil Ophthalmology Diagnostic Centre – Saturday 23 September
To celebrate National Eye Health Week, our colleagues are running a special drop-in day, called 'Open your eyes', on Saturday 23 September, from 10am to 2pm, at the centre.
Anna continued: "We'd welcome anyone who wants to drop in to have a look around the centre and also learn important tips to keeping their eyes healthy. It's a good opportunity to find information to signpost friends or family who might be concerned about their eyes.
"We have colleagues from a number of eye-related charities coming along on the day, from the Macular Society and Diabetes UK, to the Royal National Institute of Blind People and our very own NHS eye care liaison officer service, which is run in partnership with Somerset Sight.
"We'll have an information stand in the pods for each speciality, and I'm sure everyone will come away having learned something about eyes that they didn't already know!"
Paritosh added: "Everybody knows how important our eyes are, and how it's crucial to take care of them. But a lot of the time when people talk about health issues like diabetes, smoking and blood pressure, they think about the whole body, but the effect it can have on our eyes is rarely mentioned.
"For example, smoking poses one of the greatest risks for macular degeneration and there's often not enough focus on this.
"It's the same with diabetes too, so I'd urge people to take up an annual eye check as part of the diabetic screening programme, as well as making regular visits to your optician to make sure everything is OK.
"We would also like to increase awareness of the Somerset Acute Eyecare Scheme, which is run by local optometrists for patients needing advice for urgent eye problems."