Parkside – Private Patient Unit
Parkside is Musgrove Park Hospital's private healthcare facility. At Parkside you are treated like a guest, and we do everything we can to make your time with us a calm and pleasant one.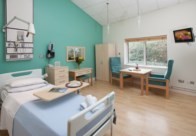 We have 12 bedrooms – all airy, spacious and smartly decorated to the modern standards that you would expect. This means that we can offer a personal service to you and your visitors.
Your Parkside experience begins when you arrive at Parkside. You can park in our dedicated car park right outside the front door, free of charge.
Our modern reception, which has recently been redecorated, is light and airy and you will be offered refreshments by the member of our team who welcomes you. In addition to our bedrooms, we also have a consulting room where you may come to meet with your consultant or for your pre-operative assessment.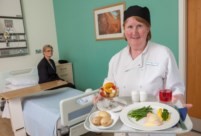 At Parkside we love food, and our team of chefs offer a varied and tasty menu, which our patients help us choose, sourced from local ingredients. We prioritise your health over all things, which is why you are here.
At Parkside your care will be consultant led. This means that you will see your consultant daily and you can trust that all decisions regarding your care will be made by your consultant.
Whilst staying at Parkside, you will be cared for by an excellent and experienced team of multi-disciplinary nurses who are dedicated to helping you make a speedy and successful recovery.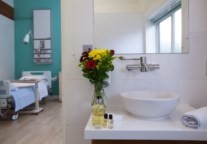 You also have the comfort and reassurance of knowing that you have all of the back up support and services, such as intensive and high dependency care, which come from being part of a leading NHS hospital on hand, just in case you need them.