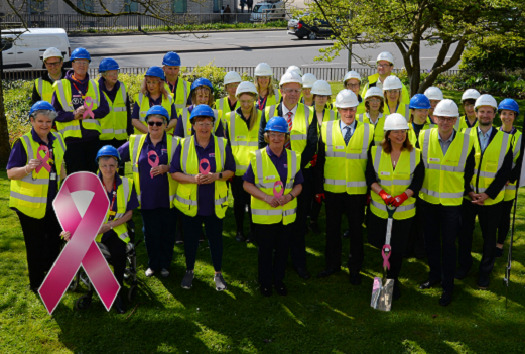 Spotlight
Construction begins on new Breast Cancer Unit as fundraising efforts continue
We are excited to announce that work is now underway to build our new Breast Cancer Unit at Yeovil Hospital.
Our breast care team treats and cares for over 2,000 new patients and more than 3,000 follow up patients every year at the Yeovil site. The new unit is a huge milestone in the project and, with £2.3m of the £2.5 million target already achieved, we have been given the go-ahead to begin the construction work while fundraisers continue to support us.
More women and men are surviving breast cancer today but there are also more people being diagnosed than ever before with one in seven women being diagnosed with breast cancer in their lifetime.
For the first time, this new Breast Cancer Unit will mean patients can receive all of their tests in one, purpose-built facility making the experience much less stressful at what is often a very difficult time.
James Kirton, Head of Charity, said, "We have raised over £2.3 million so far and we would like to thank each and every member of our wonderful community. It will be fantastic to see this money transformed into 'bricks and mortar'. Without the effort and enthusiasm of all of our supporters and donors, we would not be able to turn this ambition into a reality for our patients.
"We have had people being strapped to the top of planes wing-walking, running marathons, selling cakes, eating cakes, shaving beards and much, much more. Fundraising brings out the best and the bravest in everyone. We have worked with people right across the region, including local companies, schools, groups and many wonderful organisations. Please stick with us for a few more months!"
Breast care consultant Caroline Osborne is delighted to see the works begin and said: "This is a milestone for Somerset and something that we have been desperate to get underway. It will deliver everything our patients need, in one purpose-built facility. It's also going to be a much better environment for the team to work in and provide the best care for our patients."
The new unit will bring all of the relevant services together. Patients can have their clinical examination, an ultrasound scan, a mammogram, a biopsy, a prosthesis fitting, an appointment with a doctor and an appointment with a specialist nurse all in one place, which will help improve patient experience.
The unit is being built next to our Women's Hospital building and will include:
A dedicated counselling space for difficult conversations
A changing room, designed specifically to ensure patient privacy and dignity are paramount
A fitting room for bras and prostheses
A comfortable waiting area, away from other busy outpatient areas and treatment rooms
Art and natural light to make the atmosphere as relaxing as possible
A mammography room
An ultrasound room
A wellbeing room for support groups and wellbeing activities
Although building work is finally underway, our fundraising efforts still have some way to go. The fundraising team can be contacted on 01935 383020 or by emailing YeovilHospitalCharity@somersetft.nhs.uk.
A group of supporters came together with the Breast Care Team and representatives of Tilbury Douglas, the contractors, to break the ground and mark the start of the construction phase.