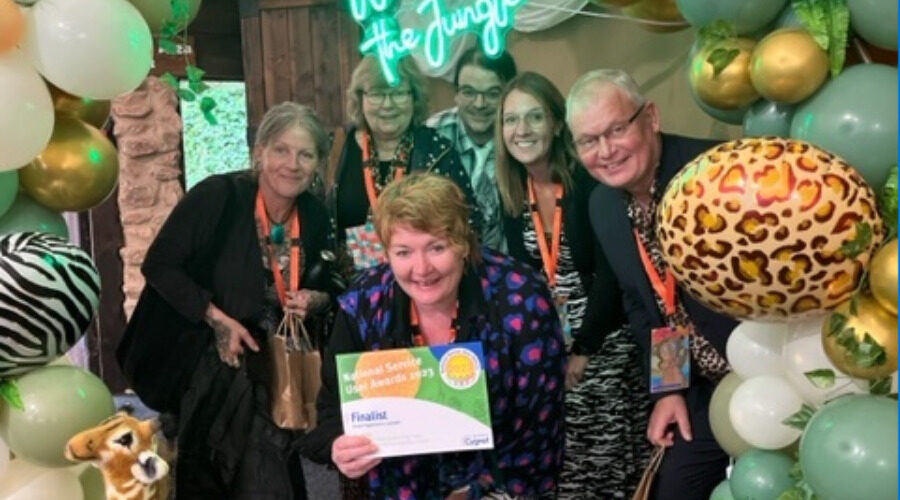 Spotlight
Courageous Martina praised for amazing contribution to mental healthcare in Somerset
Martina is a resilient and inspirational survivor living with bi-polar illness, who first became involved in the co-production of mental health services in Somerset in 2018, while on her own recovery journey.
Since then, Martina has grown into a confident expert by experience, leading peer support meetings across a rural area, and helping to start our Somerset Recovery College – of which she was the very first co-tutor!
And now Martina is celebrating success in the National Service User Awards 2023, where she reached the final for 'Lived Experience Leader of the Year'.
Through her initiatives, Martina has developed a valued supportive peer-led community in a rural area where this type of support was previously like gold dust.
In addition to being an active Expert by Experience, Martina has also become a formal NHS volunteer, and provides both peer and practical support to others in generous measure. She frequently shares the lessons she has learned (the hard way, she says) on her recovery journey, to help others with theirs.
In between all of this, she is a devoted carer to a friend who has cancer – a towering role model and source of inspiration to both NHS colleagues and her peers alike.
Carly Reynolds, our mental health rehabilitation service manager, said:
"Five years ago, true patient involvement was a mere aspiration for our mental health service group, but Martina has played a huge role in making this very much 'business as usual' in Somerset.
"Not only has she led the way with the development of peer support among patients in the Mendip area, her commitment and determination has shown what can be possible across a large rural community, and her incredible energy has encouraged other areas in the county to follow."
Paul Milverton, our people participation and co-production lead for mental health, said:
"We're so proud of Martina for making the final of the National Service User Awards, and although she didn't take home first place, she is absolutely a winner to us.
"The awards event was so inspiring and there were many moving accounts from across England of how people have overcome the dark days of mental ill health, and gone on to use their lived experience to both help others and improve services.
"The event was held at West Midlands Safari Park and everyone wore smart dress with an 'animal' twist – there were lots of leopard and zebra patterns adorned as part of the theme, which was great fun!
"In fact, the strapline for the event poignantly showed a lion with the words: 'Not all courage roars.' – summing up the event nicely."
Martina said: "I was thrilled and humbled to be nominated for the award – it meant a huge amount to me to be recognised in this way. I was, however, over the moon that it was the mainly the youngsters who received the awards as they will be the spokespeople for the future of mental health. I couldn't have asked for a more lovely experience and will always be grateful."
Hear colleagues and friends of Martina talk about her amazing contribution towards mental healthcare in Somerset in this six minute video:
[embed]https://www.youtube.com/watch?v=fsfN0jPc-DA[/embed]