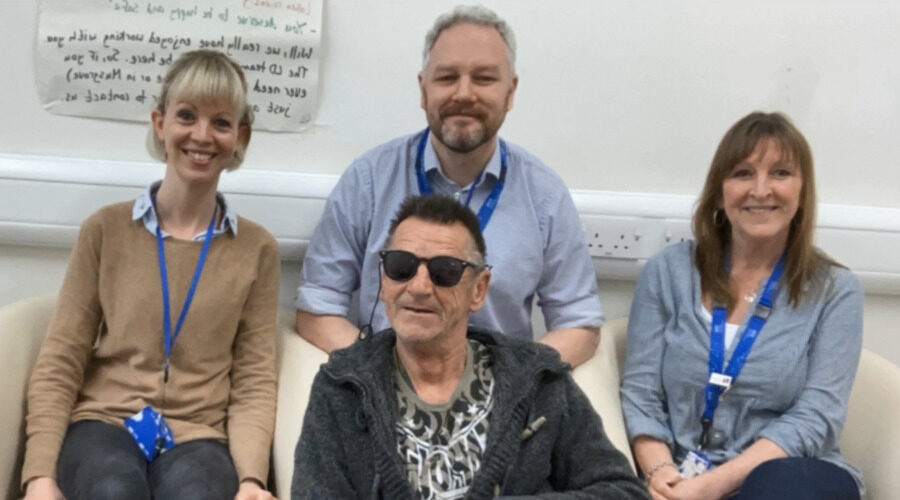 Spotlight
Creating bespoke safety plans for our patients with learning disabilities
Safety plans are used to help someone navigate suicidal feelings and urges, as well as self-harm, and many of our teams work with patients to create safety plans that are personal to them – but our clinical psychologists are taking that one step further for patients with learning disabilities, by creating interactive and visual safety plans that are more easily accessible.
Most safety plans, while still created specifically for the individual, are often typed up and printed out on a page. But for patients with learning disabilities, a written, printed safety plan can be difficult to use – and for patients who struggle to read or write, it's almost impossible.
So, how do we make safety plans more accessible for these patients?
Our clinical psychologist and learning disabilities specialist, Dr Laura Day, explains how thinking outside the box has helped them to create different types of safety plans for patients.
"Writing up a safety plan for an individual who can't read or write puts a huge barrier in the way of them accessing the tools and support they need," said Laura. "We also know that for people who are distressed or having suicidal thoughts, it can be even harder for them to regulate their emotions and process complex and/or written information.
"We've started to explore different ways of presenting safety plans to combat this – from videos to audio files, and even interactive PDFs and printed posters, there are so many ways that we can make a safety plan more accessible. We also try to link the plans to themes or topics that resonate with that person.
"For one of our patients, Will, who can't read or write, we created an 'Only Fools and Horses' themed video. It features myself, our health resource technician for learning disabilities, Rob Lawrence, and a learning disabilities nurse, Ruth Pym, against themed backgrounds. Together, we talk through different prompts that might help him when he's feeling suicidal, or when he's self-harming. We also talk through different support services, and visually show the number on screen with a visual aid, like an ambulance for 999 or the Samaritans logo.
"Another patient wanted something funny; something that was going to make them smile. So, we created a video of one of our trainee clinical psychologists showing ways to relax when feeling angry or anxious, by creating a double of themselves, who then shows the other version of herself how to do some grounding techniques."
Rob works alongside the patients to create safety plans that they resonate with, helping to ensure that the patient has had every input in the tool.
"When Laura originally got in touch asking for a video, I was really happy to help to create more assessable plans that our patients could use," said Rob. "It's so important to work in collaboration with each patient to find out their preferred style and make it as person centred as we can. The Only Fools and Horses video was the first one we created, and working with Will to make it work for him was just brilliant."
While video seems to be a preference among patients within the service, there have been some safety plans that are still printed out, but focus tends to be on visual aids rather than text.
"Sometimes when a video plan isn't quite right, but we want the plan to still be heavily visual, giant posters can come in handy," continues Laura. "For one patient, who was a huge darts fan, Rob created a giant dartboard, with safety prompts on each segment. We also produce mini wallet-sized versions that people can keep in their pocket or bag, if they need safety prompts while they are out in the community."
The safety plans aren't just created for the use of the patient, however. They can also be useful for carers to use when a patient is experiencing a time of crisis, and even just the process of creating them has been somewhat therapeutic for patients.
"Many of our patients have come away with a real sense of pride after creating their plans, and they find the process enjoyable. That was certainly the case for patient Ross, who created a safety plan that stemmed on his love of writing poetry. He named it 'A positive poem about myself', and he reads it out to himself on video.
"In the run up to World Suicide Prevention Day, taking place on Sunday 10 September, we want to highlight just how beneficial it can be to think outside the box when it comes to creating safety plans. While this way of working is still very much in its infancy, we hope that the patients we've worked with so far are less likely to progress into a crisis, and instead can manage their thoughts using their safety plans, that have been designed specifically for them and their needs."
Somerset's Open Mental Health has a wealth of information on understanding suicide, including a whole section on safety planning, over on their website for those interested in learning more: https://openmentalhealth.org.uk/understanding-suicide/