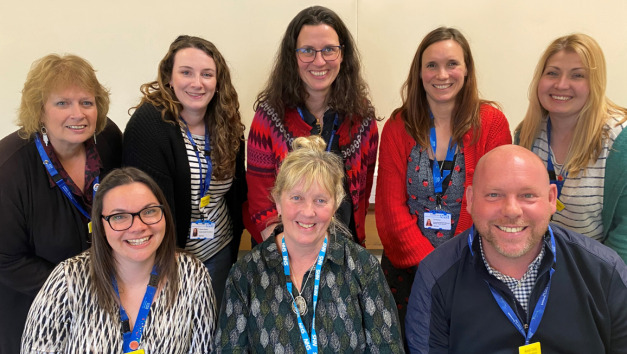 Spotlight
Delivering trauma-informed maternal mental health care in Somerset
For almost 15 months, our new maternal mental health service has been supporting people in Somerset with their mental health, providing a specific area of support to those following the loss of a baby, or a traumatic experience related to pregnancy, birth, or post-natally.
So far, the team has supported over 100 people, caring for around 50 patients at any one time. They are now officially launching the service, hoping to raise awareness of how they can support those in need.
The team works side-by-side with our existing perinatal mental health service, and is part of the NHS Long-Term Plan to combine maternity, reproductive health, and psychological therapy for anyone experiencing moderate to severe or complex mental health difficulties – directly arising from, or related to, their maternity experience.
Together, the teams will listen to the person referred to the service, to understand what would be helpful for them and their family at that time, and into the future. Our service lead for the perinatal and maternal mental health services, Debbie Bunce, explains how we're ensuring that patients can access compassionate care, at whatever level of support they require. She said: "Supporting people who have mental health needs from the loss of a baby, or from a traumatic experience related to maternity care, can require a different type of support that wasn't previously offered by perinatal services.
"Our perinatal service supports many families during pregnancy and after birth who are struggling with their mental health, but this support is catered to protecting and strengthening the bonds between parents and their babies – it's a very different type of support than what is required when a parent no longer has their baby with them, and that's where the maternal mental health service can support.
"The service is made up of a team of clinical psychologists, mental health practitioners, secretaries, nursey nurses, a specialist midwife, and peer support workers, who will focus on supporting new, expectant, and bereaved parents. This could include anyone that has experienced a perinatal loss, such as a miscarriage, stillbirth, or termination of a baby; anyone that has been separated from their baby at birth – for example, where the child has been placed in long-term care or adoption; or anyone experiencing post-traumatic stress disorder (PTSD) following birth trauma, or a severe fear of childbirth, known as Tokophobia.
"Psychological interventions can be adapted to suit the individual's needs, but may include individual therapy (impact of experiences on wellbeing and coping), Video Interaction Guidance (parent-baby bonding), Eye Movement Desensitisation Reprocessing (trauma processing), Compassion Focused Therapy, Cognitive Analytic Therapy, or couples' interventions. We can also offer advice, signposting and liaison as appropriate, for example to other local NHS services and charities."
The team is county-wide, working with health visitors, GPs, as well as midwives from Royal United Hospital Bath (RUH), Musgrove Park, and Yeovil Hospital. Working alongside these other services ensures that patients get a 'no wrong door' approach when accessing their care. Kat Peckitt, clinical psychologist on the team, explains: "We work incredibly closely with other services across the Somerset healthcare system, including maternity teams and our Talking Therapies service, to make sure that our patients are getting a joined-up care approach from the various care pathways they may encounter.
"Supporting and re-building trust in a patient who has been through a trauma is really important, so we want to make sure that they get the right support, no matter how or where they come into the healthcare system. Our peer support workers do a brilliant job of relating to what the patient is going through, from their own lived experience, and this helps them to connect with our service, and means we can deliver the interventions needed to support them after a loss or trauma."
Linking in with Somerset Maternity and Neonatal Voices Partnership (MNVP), the team can see real feedback from patients across the maternity and neonatal service, understanding what is working for patients, and some things that they can continue to develop.
Kat continues: "We have had some lovely feedback from patients that we've helped, and this usually focuses on how they are now able to identify and process their struggles, and ways to cope – helping them to feel clearer and more empowered. It's wonderful to know that we've helped someone through an experience that was affecting their daily lives, so much."
Just one of the ways the team is helping patients, is by setting up a special antenatal group for people who have also experienced loss. Having this tailored group helps to support patients in a more specific way, understanding their needs and how their journeys are different.
As well as supporting the patient, the team will also offer support to the other parent or family members who may also be struggling themselves, including providing someone for them to talk to as well.
"Suffering a loss or trauma will have a ripple effect around a patient," Debbie continues. "Those ripples will touch the lives of not only the other parent, but close family members and friends too. To support our patients, we need to be supporting their 'ripples' as well, so that everyone is able to help each other. We have worked closely with other colleagues to understand this impact, such as our bereavement project lead midwife, Lucy Blackmore, who has helped us to develop the service we now offer today.
"My hope for the service as we continue to grow and expand the support we can provide, is that we are creating an easy-to-access service for those who need us. We want people to know that we exist, so they can discuss whether the service would be appropriate for them with other healthcare professionals such as their GP or midwife, and understand what specific support is available to them in the county.
"We're also hoping to start working more preventatively, supporting families to give their babies a good start in life, and in the process, helping them to have good, long-term mental health.
"By delivering compassionate, quality care at the right time, we can help hundreds – maybe thousands – of people to work through their trauma, and hopefully go on to lead happy, healthy lives."