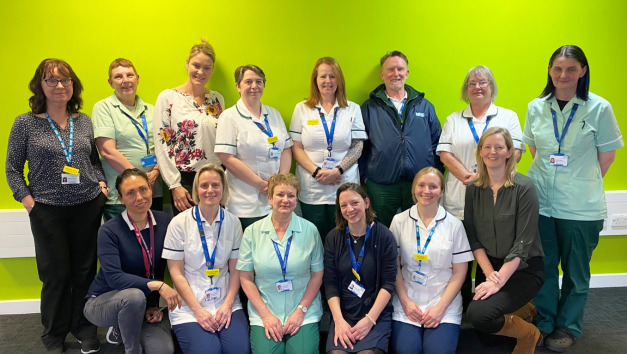 Spotlight
Discharge to Assess helps 8,300 patients return home in first three years
Over 8,300 people have been helped to regain their independence at home following a stay in hospital thanks to Somerset's Discharge to Assess service.
The service, which is funded jointly by Somerset FT and Somerset County Council's adult social care team, celebrates its third birthday this month – with colleagues and patients proud of its success.
It was initially formed from the NHS and council's response to the COVID-19 pandemic – a time when it was vital to help people stay at home.
It means our patients can return home much quicker than before, reducing the need to wait in hospital for a long-term care package.
Clare Brolly, our operational flow manager at the Discharge to Assess team, explained how the service works.
"When a patient is admitted to one of our hospitals, they are assessed by a multidisciplinary team of health and social care professionals who will look at whether their care could be managed at home with a little extra support.
"We use a number of resources to support patients to return home which may include therapy, reablement care, or equipment. As part of this, we work with patients in their home to carry out a holistic assessment, where we review their abilities and needs to understand how to help them to recover.
"We also provide a period of rehabilitation, centred around the persons recovery goals, which helps to reduce the chance of them being re-admitted to hospital, or needing further care at our community hospitals.
"Many of our patients don't need further support following care from our service, but for those who do, we help to identify the type of longer-term care that may be needed, or other support, such as from the voluntary sector.
"Colleagues in our Discharge to Assess team have learned so much in its first three years, we listen to our patients and colleagues about what works well and where we need to improve, and always strive to give the best service we can."
"Being at home means everything to me"
One of our patients, Pat from Taunton, was cared for by our Discharge to Assess team when she broke her wrist after falling over in her garden in 2021.
"The nurses and other colleagues were so caring, but I was glad when conversations started about leaving hospital," said Pat.
"When I returned home, they helped me to become more confident on walking with the frame, and the team of reablement specialists who visited me, encouraged me to get out for a walk.
"I felt so reassured by the team and soon began to trust them, which is when the real progress of my recovery started.
"I've already begun taking gentle walks again, such as to the local church and back, and my ambition is to get back to walking my dog again.
"Every time I go out into my garden, I pick up a stone to add to my little Lent feature – I will have picked up 40 stones by the end of Lent, so I will have been out to the garden 40 times!
"I feel it would have taken me a lot longer to recover without the support of the Discharge to Assess team, and I wouldn't have been sure whether I was doing the right things to make this happen without the specialist advice and support.
"The team helped me to live as normal life as possible in my own environment, and that was the most important thing to me. Being at home means everything to me."
Working for Discharge to Assess
Sharon Dodsworth, one of our reablement practitioners, has worked in the Discharge to Assess team since it began in 2020.
"I absolutely love working for the team and find that the relationships we build with our patients are vital in their experience, which leads to them recovering more quickly.
"By meeting the patient at home on the day they leave hospital, and providing reassurance and clear information about the support they are likely to receive, we can ease their worries and those of their loved ones.
"We help patients to set their own recovery goals, which is extremely important, and having trained enablers to support them to achieve these is fantastic.
"One of the best things about Discharge to Assess, is how it excels in recognising what a patient needs to support them to regain their independence or to assess their long term care needs, while being able to signpost to other teams, as appropriate, to achieve the best outcome possible for the individual.
"The level of training available to Discharge to Assess key workers is exceptional, with encouragement from the senior team to constantly increase our knowledge base and learning opportunities - this then allows me to be better informed and more knowledgeable, again, ultimately providing a better service for our patients.
"One of the highlights of my role was when I recently assessed a patient with a recent cancer diagnosis. The patient and their family were devastated and had no idea how they were going to cope with the physical, emotional and practical impact of the patient's deterioration.
"At the assessment, I reassured the patient and their family and ordered an urgent delivery of equipment to support them at home.
"They were so grateful for our input, and having the responsibility lifted from their shoulders somewhat by Discharge to Assess, meant they could have that important quality time with their loved one at home.
"My role in Discharge to Assess makes me proud of who I am and what I do, it gives me a sense of purpose and self-worth that I have never experienced in any other role before.
"I would have no hesitation in recommending working for Discharge to Assess to anyone, I have had many jobs over the years but this is by far, the happiest I have been in any role."