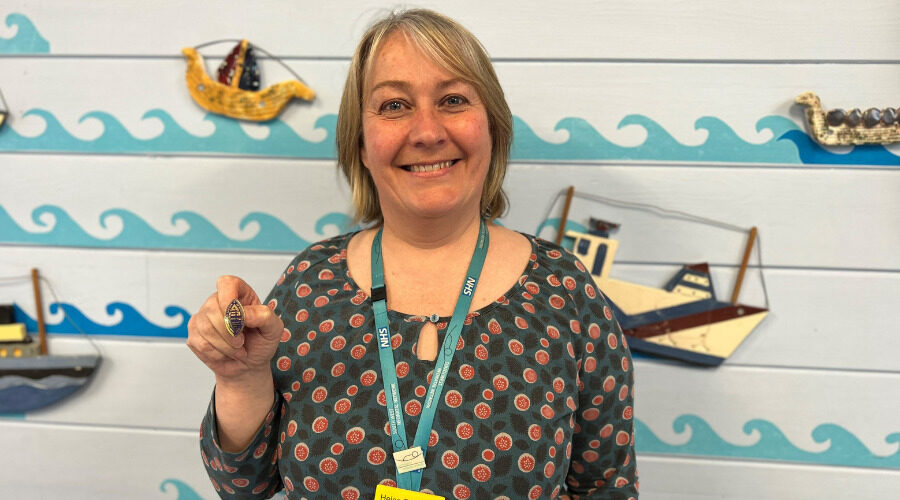 Spotlight
Gold for Helen Robinson for dedication to neonatal physiotherapy education
Our lead physiotherapist for neonates has been recognised for her outstanding efforts in developing education and training for fellow professionals.
Helen Robinson, who works on Musgrove Park's neonatal unit, was given the Gold award by the Association of Chartered Paediatric Physiotherapists (APCP) in recognition for the work she has undertaken in co-authoring a series of eLearning for Health training modules for NHS England.
A paediatric physiotherapist for 32 years, Helen began her paediatric physiotherapy career at the Evelina London Children's Hospital. Following this, she moved to Somerset in 1998 and joined Musgrove Park Hospital, initially as a children's community physiotherapist, and in 2000 she became the neonatal physiotherapist – a role she's been in ever since.
"I currently have a split role, working clinically at Musgrove and also regionally from Bristol for the South West Neonatal Network," said Helen.
"In my clinical role at Musgrove Park Hospital, I support infants at high risk of developmental difficulties, both on our neonatal unit and in follow-up clinics, for instance those born extremely premature. I identify any babies who might go on to have atypical development at the earliest possible stage.
"This involves spending time on our neonatal unit carrying out screening and neurological assessments on an individual baby, before continuing to follow them up until they are either two years old, or for some of the very pre-term infants, until the age of four.
"I also provide support and advice to families regarding activities they can carry out to help with their baby's development.
"Babies who are born prematurely or very sick are at high risk of developmental difficulties, including cerebral palsy, so by identifying those babies early, we can start to treat them straightaway. This can have a huge impact on their brain development and later outcomes.
"The other half of my job is as the South West Neonatal Network lead physiotherapist, which involves using my knowledge and experience to develop neonatal physiotherapy services for babies and their families across the region, and supporting the growing neonatal physiotherapy workforce."
In 2019, the National Neonatal Critical Care Review (NCCR) took place, which identified a lack of allied health professionals (AHP) working within neonatal care.
Helen was asked to become a peer reviewer for this process by NHS England and spent time at large hospitals across the country, reviewing AHP services for the report. This was followed by NHS England's neonatal 'Getting it Right First Time' review.
"Both reviews highlighted the importance of neonatal AHPs in improving outcomes for high risk infants and recommended increased staffing for units," Helen continued.
"In support of the review, and in my regional role, we are actively looking to increase physiotherapy time for neonatal units across the south west.
"It was great to be able to set up a dedicated neonatal physiotherapy role at Musgrove Park in 2000 – at that time we were one of only two hospitals in the region that had a service.
"More recently, money that came about as part of the NCCR has enabled us to have some extra neonatal physiotherapist time on the unit at Musgrove. This is being carried out by another physiotherapist, Hayley, which means we have succession planning in place.
"I have also managed to secure some funding for physiotherapy cover for our neonatal unit at Yeovil Hospital too, ensuring that all our high-risk babies and their families in Somerset have an equitable service. However, we know that there's still work to do to meet the national staffing recommendations."
Helen is currently serving her second term on the APCP's neonatal committee, and as part of that, she's been working with NHS England, co-authoring some neonatal physiotherapy education modules.
She's now involved with writing an enhanced module too, with plans for that to go live by the end of the year.
"I'm passionate about developing neonatal physiotherapists and I'm really interested in education in this field, so it was fantastic to be recognised for something that I've put my heart into," she said.
"Although it has been hard work, I've really enjoyed the process too, and I've learned a lot about eLearning!
"Many new physiotherapists are coming into the profession with very little experience, so the foundation level education modules give them that free learning opportunity, including knowledge checks and assessments throughout and completion of a workbook.
"By developing national learning content for our profession, we aim to ensure that all neonatal physiotherapists are trained to the same standard."