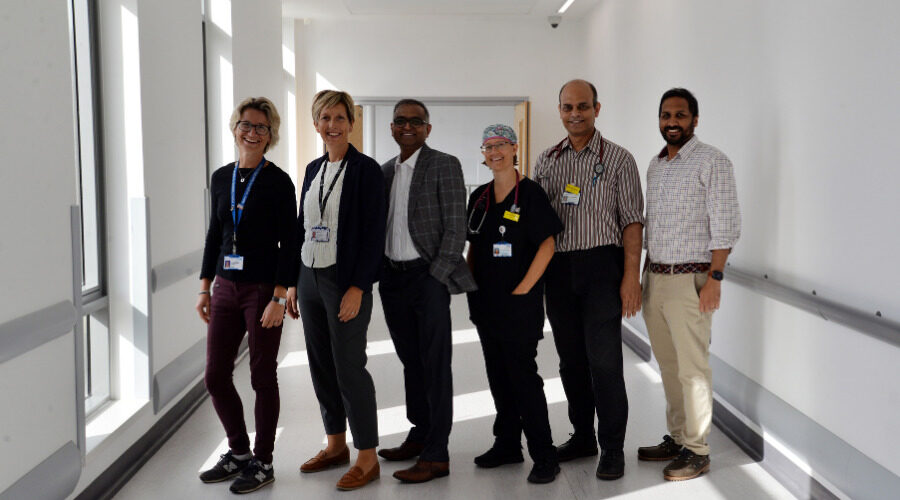 Spotlight
Introducing our speciality and specialist doctors (SAS)
(Pictured above are a selection of our SAS doctors at Musgrove Park Hospital)
It's Specialty and Specialist Doctors (SAS) Week – a time when we proudly recognise and express our gratitude to our dedicated SAS colleagues for their outstanding contribution to healthcare.
SAS doctors represent a diverse group within our trust, each possessing a unique set of skills, experiences, and specialised knowledge, as they play a pivotal role within our medical workforce.
Mrs Vanessa Tuff, one of our associate specialists in vascular surgery at Musgrove Park Hospital, explains the important role provided by colleagues in the profession. "Within our trust, we're fortunate to have 180 SAS colleagues," she said.
"Each of our SAS colleagues will have undertaken a minimum of four years of rigorous training, beyond the standard medical curriculum, to become an SAS doctor.
"They're very much seasoned and highly competent clinicians, who often operate autonomously and with confidence in their decision-making abilities. They are entrusted with providing expert clinical care within their specialised areas too, offering a wealth of knowledge and skill to our patients.
"SAS doctors shoulder responsibility for the care of patients within their specific areas of practice, ensuring that our patients receive the best possible treatment and support.
"Choosing a career as an SAS doctor presents a rewarding alternative to pursuing a path as a consultant or GP. There are numerous compelling reasons why individuals opt for this role, whether for the long term or as part of their professional journey.
"Typically, SAS doctor positions offer a unique opportunity to focus on providing direct patient care, alongside their administrative and non-clinical responsibilities.
"Based on their individual interests and experiences, as well as the available opportunities within our trust and specialties, we also encourage our SAS doctors to engage in teaching, service development, research, and management and leadership activities.
"We're so proud of our SAS doctors this SAS Week, we extend our heartfelt thanks and appreciation to these dedicated professionals for their unwavering commitment to our patients' wellbeing."
Here are the thoughts from just a small selection of our 180 SAS colleagues:
Jo-Anne Casey, one of our speciality doctors in Musgrove's emergency department, is one of our international medical graduates.
"I initially qualified in South Africa and have been working in the emergency medicine field since 2011," she said.
"My experience in a different health system, with a higher proportion of trauma and less geriatric presentations, meant I felt I had more experience in some trauma management procedures such as chest drains when I came to the UK.
"Having completed the first three years of emergency medicine training, I felt that a portfolio career with an interest in teaching and simulation would be a better option for me than a consultant pathway.
"Working at Musgrove since 2015 has meant I have a 'local knowledge bank', which I can draw on to help trainees in the department, and I have been actively involved in induction for new doctors for the last three years.
"I was also honoured to receive a training award this year for educational contribution from a SAS doctor.
"I have found the speciality doctor role has allowed for a better work life balance and, although emergency medicine can be stressful, doing teaching sessions separate to clinical work allows me to retain my enthusiasm for what can be a very rewarding career, full of interest and diversity."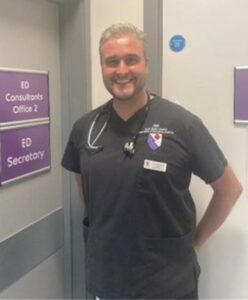 Dr Joseph Rowton (pictured right), an associate specialist and speciality doctor in our emergency department at Yeovil District Hospital, says the path to where he currently is has been quite convoluted!
"I did my core surgical training and then realised that I had interests elsewhere, so I actually came out of surgical core training," he said. "I took on a trust post in paediatrics for a year, before working in general practice for three years locally.
"After I got my Certificate of Completion of Training in 2017, I was doing a little bit of locum-ing as both a GP and out-of-hours in our emergency department, as well as dabbling in aesthetics on Harley Street!
"After a few years of this, I decided my primary passion was in emergency medicine, so instead of having to go back to the ridged training systems that you need to go through, I thought an SAS doctor role would take all those experiences into consideration.
"Being a SAS doctor allows more flexibility, without having to meet the rigid and formal requirements of a training programme – it has definitely worked well for me!"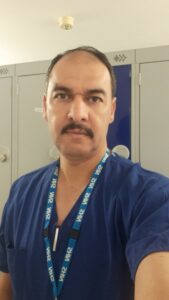 Mr Muwaffaq Telfah (pictured left), has taken on a variety of SAS roles within Musgrove and is currently a colorectal SAS and clinical teacher lead for the University of Plymouth.
"I'm a general surgeon from Iraq and am so proud of my role," he said. "I've worked at Musgrove since 2017, when I first joined the NHS, and have worked in gastro-intestinal surgery between upper GI, bariatric, and currently as a colorectal SAS.
"Through these roles, I've actively participated in audits, research and teaching, in addition to my job as a surgeon. Through this SAS grade, I've progressed in my career and am now finalising my Certificate of Eligibility for Specialist Registration (CESR) application to get into the specialist register in preparation to stepping up to a consultant grade."
Dr Jenny Langlands, an associate specialist in paediatrics at Musgrove, said:
"I've worked in Musgrove Park Hospital for over 20 years, starting off as a paediatric senior house officer back in 2000. It's fascinating to think how much has changed for paediatrics in that time – I've been lucky enough to have had a huge variety in my job plan during my time here.
"I've always had an active role in medical education, being the coordinator for our Bristol Medical students while on paediatric placement, and I continue to work alongside our consultants with teaching and examining.
"One of the roles which has developed more recently is that of the medical student wellbeing lead, which I have thoroughly enjoyed and feel very privileged to be part of the Academy team.
"I also have a lead role in the management of the newborn hearing screening programme, and am therefore part of a wider multidisciplinary team meeting, working alongside colleagues from many other specialities, which I find really interesting.
"My paediatric role has developed and my focus is now on assessing children with possible autism/ADHD with our children and young people's neurodevelopmental pathway (CYPNP) team, based at our children's community hub at East Reach House in Taunton, however I'm still very much part of the children's community doctor team at Musgrove.
"I feel being a SAS doctor has allowed me to access many of these roles and experiences, and I thoroughly recommend it as a career choice."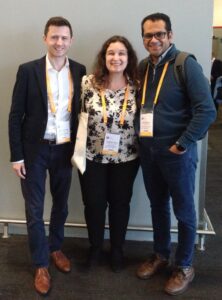 Dr Shady Hermena (pictured third from left), an SAS doctor in trauma and orthopaedics at Yeovil District Hospital, says he's deeply grateful for the opportunity to start his NHS journey in Yeovil.
"The mentorship and unwavering support I received during my time here has not only facilitated a smooth integration into the healthcare system, but also enabled me to secure a national training number in one of the most competitive surgical specialties," he said.
"During my career as a trauma and orthopaedic SAS doctor, I've been fortunate to experience a work pattern and level of teaching on par with trainees in the Severn Deanery. This was made possible through the exceptional supervision and support provided by my dedicated educational and clinical supervisors, as I rotated through various placements within the department.
"I must also extend my heartfelt gratitude to Oliver Donaldson, my educational supervisor from September 2019 to July 2023. His unwavering availability and approachability for both formal and informal learning meetings and discussions were instrumental in shaping my career.
"Over the course of four years, Oliver guided me meticulously, helping me chart a path towards my professional growth, while offering all the support I needed.
"Through collaborative efforts with colleagues at Yeovil District Hospital, I was able to complete, publish and present multiple studies nationally and internationally - this would not have been possible without our incredible resources and camaraderie.
"I'm genuinely grateful for the supportive atmosphere and the incredible opportunities I've found at the trust – these experiences have played a huge crucial role in shaping my professional path."
Dr Joanne Botten, our acute oncology lead at Musgrove Park and Yeovil hospitals, began working at Musgrove in November 2013 as a specialty doctor in oncology.
"I had two small children and was finding the commute from Taunton to Bristol to complete my clinical oncology training was too much," she said.
"I was excited about the challenge of setting up the acute haemato-oncology service and could see at an early stage how the trust was keen to develop SAS doctors.
"In May 2017, I regraded to an associate specialist and took on a slot on the oncology consultant on-call rota. I developed a specialist interest in lung cancer and more latterly, melanoma.
"I've been supported in becoming an appraiser and an educational supervisor, and have been the SAS tutor, and am currently the associate director for medical education for support and wellbeing. I was also our clinical service lead for oncology for three years, and am clinical lead for the acute oncology service across Somerset.
"I'm keen to show that you don't need a consultant qualification to be successful in management, education and leadership roles."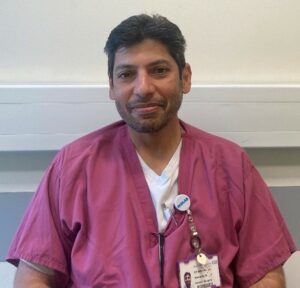 Mr Nauyan Ali (pictured left), a speciality doctor for surgery at Yeovil District Hospital, said:
"SAS doctors have been known by different names over the years, and it's something that's still very much in evolution. No one knows exactly what the boundaries are, which is good in a way.
"I feel that the consultant path has its pros and cons, so those who want to step back a bit to think about it can do this by becoming a specialty doctor.
"As a specialty doctor, the role is a major link between junior doctors and consultants. Our consultants are often very busy, and not only have to do hands-on patient care and treatment, but also management work and patient letters. That means that they can't always talk with the junior team while they go around on the wards…and that's where SAS doctors come in.
"The SAS doctor roles have fewer responsibilities, but cover more specialist work. It not only gives us an opportunity to progress from where we are, but it also allows us to have a good work-life balance, where we practise what we're trained for."
(Pictured below are a selection of our SAS doctors based at Yeovil District Hospital)