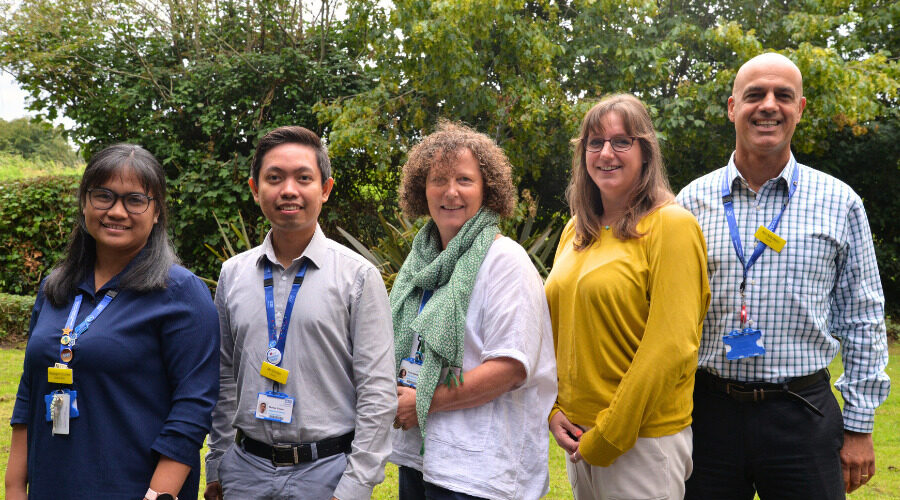 Spotlight
Launching legacy mentors to support nurses in their early careers
For our colleagues in their early careers within the NHS, it can be an incredibly daunting time with steep learning curves, and often it's colleagues in the latter part of their careers who are able to offer sound advice and support to their fledging colleagues.
This hasn't just been noticed within our own services, but across the country, and so 'Legacy Mentoring' has officially been launched by NHS England.
Legacy mentors are experienced nurses who can offer mentoring to new nurses in the first two years of their NHS careers, supporting them to not only stay within the NHS, but to stay well and in the right roles for them, too.
The group is made up of six Somerset FT colleagues, who will be working as legacy mentors alongside their day-to-day nursing roles – lead legacy mentor, Nic Monteiro, clinical skills trainer, Nabegail Oronce, Kirsty Hambly, who has recently worked within the trust's testing team and nursing on wards at Musgrove Park, clinical nurse specialist for HIV, Karen Maddison, diabetes staff nurse, Momar Erolan, and clinical practitioner and pastoral care for mental health international nurses, Christine Picton.
The group will offer coaching both face to face and virtually, for any newly-registered nursing colleagues within the first 24 months of their careers.
Staffing levels within the NHS continue to be a challenge, and lead legacy mentor Nic explains why it's so important that we're working together across the Somerset healthcare system to keep colleagues working within the county.
"With the NHS continuing to face challenges nationally, there is an increasing need for us to provide support and guidance to colleagues in their early careers," explains Nic. "We want to not only keep our nursing colleagues practicing, but we want them to be happy in their careers too, which is why we'll be working together as one healthcare system in Somerset to support everyone in a nursing role, no matter where they are based.
"Whether someone is based at one of our acute hospitals, Musgrove Park or Yeovil Hospital, or based in a nursing home somewhere in Somerset, we can support them to look into a different nursing role or location within Somerset – retaining the amazing talent we have in the county, to stay within our local NHS or partner care providers.
"While our focus is on newly-registered nurses, we're also here to support more experienced nurses who may feel ready to try their hand at something a bit different, or simply fancy developing their career in a different direction. Above all, we want to make a difference to nurses across Somerset, and in doing so, ensure we're keeping these brilliant colleagues and their invaluable skill sets."
Nabegail shares why she decided to become a legacy mentor: "I joined Somerset FT from overseas, moving from my home in the Philippines, and I had lots of support from the trust, from my colleagues, and my seniors back then. I'm so grateful for that, and wanted to pay it forward by becoming a legacy mentor.
"I went through a stage, after I got my nursing PIN, where I felt a little lost and unsure what to do – even asking myself if I made the right decision to move abroad and become a nurse here. I hope that with the help of legacy mentoring, people won't need to feel this way anymore. I want them to be able to see me, and see that if I could get past the uncertainty and stay well in my role, then they can too."
NHS England has funded the legacy mentors in Somerset for one year through the legacy mentoring programme, which is one of the Chief Nursing Officer's High Impact actions to support nurse retention, and has been hailed as very successful in other trusts across the county.