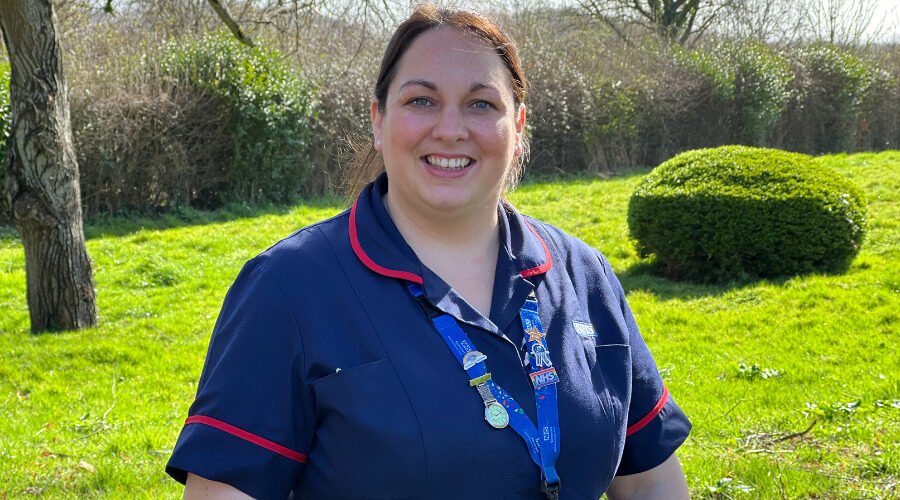 Spotlight
Meet Jen Coombes – our new sister for Somerset Neurological Rehabilitation Centre
Jen Coombes has been an ever-present figure in the NHS in Somerset since her first role as a healthcare assistant at the old Minehead Community Hospital back in 2005, when she had just turned 18.
She has recently joined our Somerset Neurological Rehabilitation Centre (SNRC) as its new ward sister, and says the team is like "one big family."
"It was fantastic working out at the old Minehead Hospital as I came across so many amazing colleagues who inspired me to do my nurse training," she said.
"I began my training through Plymouth University's former Taunton campus in 2006 and I really enjoyed this time of my career, working as a student in a number of different settings, including Musgrove Park, community hospitals and district nursing.
"My first qualified nursing post was at Williton Hospital, where I worked for nearly seven years on the stroke unit – my first taste of rehabilitation, where I worked with patients who needed that more intensive rehabilitation environment.
"It was so different to working within a district general hospital setting, but I get a huge satisfaction out of seeing a patient's journey from when they are first admitted to hospital, through their phase of recovery, and then the time they leave our care.
"It fills me with great job satisfaction, which is the main reason that I wanted to come back into a rehabilitation setting at Dene Barton Hospital."
Jen temporarily took on a stroke coordinator job at Williton Hospital but, following her maternity leave, she returned to work as a staff nurse on the ward for a short time.
She then made the move into district nursing for three years, before taking up a role as a clinical skills facilitator in our learning and development team.
"I've always been really passionate about best practice and, of course, making sure our patients get the best possible care, so it was a role that interested me," she said.
"I spent two years as a clinical skills facilitator, working across the whole trust as we went through our first merger of Somerset Partnership and Taunton and Somerset.
"It was really rewarding to work alongside colleagues from so many different services and backgrounds, and I particularly liked the important role I played in improving patient safety.
"I enjoyed it so much that I took on a leadership role within the team – my first real taste of managing colleagues. It was great to build up the team and see what strengths colleagues, as well as helping them to develop.
"I'm so passionate about helping colleagues to grow and thrive, just like I have since my very early days as a healthcare assistant to a ward sister. There are so many opportunities for colleagues to grow through our trust.
With Jen's children now in school, she jumped at the chance when the SNRC ward sister vacancy came up.
"I was really keen to get back into a clinical setting as I had spent three years out of patient care," she continued. "I had that fire in my belly to get back onto a ward team!
"We care for patients who've experienced brain injuries, neurological disorders, or conditions that will benefit from intense rehabilitation.
"Often patients will have a slightly longer stay at SNRC than most wards because they need much more time to rehabilitate. This means we can get to know patients' families really well and build up relationships with them.
"I see our team at SNRC as one really big family, with everybody supporting each other, with the same interests at heart for our patients to achieve their rehabilitation goals."