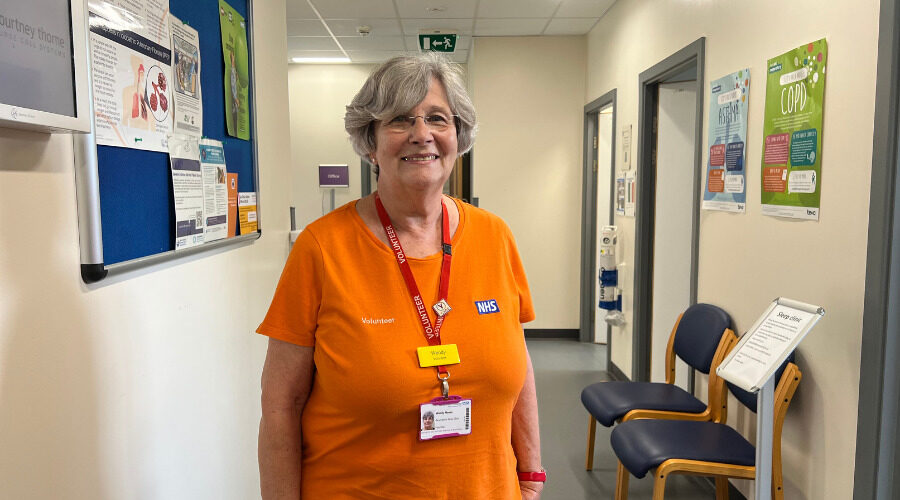 Spotlight
Meet volunteer Wendy – one of our NHS 75 babies
Wendy Mason is just one of the incredible 400-strong army of volunteers working in many different areas of our trust.
Not only was Wendy one of the first babies born as the NHS was being set up, but she was also one of the first caesarean sections at Mill Road Hospital in Liverpool.
In fact, had she been born before April 1948, then her parents would have had to pay the midwife 1 shilling and 6 pence - equivalent to £2.87 in today's money. Of course it wouldn't cost that today. Fast forward 75 years and should we not have the NHS, it would cost around £6,000!
After a long career in retail, mainly in shoe shops, split between her home city of Liverpool and Somerset, Wendy began volunteering at Yeovil Hospital – putting her skills to good use at the League of Friends shop of course.
"I've always loved the NHS and when I began to approach retirement age, I wanted to give something back as I've broken my arms and legs several times being an ice skater," she said. "I also didn't want to sit around at home doing nothing, so I put my skills to good use at Yeovil Hospital.
"I love volunteering as it gets me out of the house and it's so nice to meet new people – my friendship group seems to grow all the time, both colleagues and patients, and their relatives.
"I started working in the shop on the Sunday shift as it was always difficult to get people to work at the weekend, so it worked out perfectly for me. It is pretty much the same as all other shops, I stood and chatted to the customers, took their money, and apologised if I hadn't any items - simple really.
"I then began volunteering in our specialist sleep apnoea clinic, which has been so interesting to learn about. The colleagues I work with are brilliant and we're always laughing about something or other, I make plenty of tea and coffee to lift everyone's spirits and we're such a close knit team.
"My role involves meeting and greeting our patients and making up equipment bags for them to collect. I also help put them at ease while they're waiting, being there as a friendly face for them to chat to.
"We often find patients in the corridors that have got a little lost, so we take them to the correct departments, there's always something to do!"