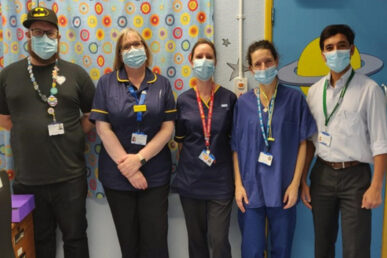 Spotlight
National praise for our paediatric cardiology service's transition clinics
A specialist NHS team that diagnoses children with complex heart conditions has been praised at a national doctors' conference.
It comes as the team set up a series of 'transition clinics' at Musgrove Park Hospital to prepare young people to manage their heart condition throughout their lives.
The dedicated clinics are held twice a year for those approaching the age of 14 to 18 years, and due to have their care transferred and managed by the NHS trust's adult cardiology team.
The concept was praised at the 2022 annual conference of Paediatricians with Expertise in Cardiology Specialist Interest Group in collaboration with the British Congenital Cardiac Association, where it came top in the 'best abstract' category.
Dr Gangadhara Bharmappanavara, also known as Ganga, is one of our consultant paediatricians with a specialist interest in cardiology. He explains: "Many children who were born with complex heart defects would have had corrective surgery when they were very small.
"While this group of young people will hopefully grow up to lead full adult lives, they'll still have some heart problems despite the corrective surgery.
"By the time they turn 18 and move into adult healthcare services, we were finding many patients did not have a good understanding of their underlying heart conditions, or the knowledge required to manage the condition.
"As a result, many patients missed their appointments with our adult cardiology service as they no longer thought they were necessary, partly because they hadn't yet developed a relationship with our adult team, and vice versa.
"But a follow-up appointment is so important as studies show that a lack of regular reviews can lead to long term complications. Also, as they grow up, young people are likely to change parts of their lifestyle, health and wellbeing, which could also affect their heart."
The clinic at Musgrove Park Hospital was set up by Ganga, bringing together the paediatric cardiology nurse and adult congenital disease (ACHD) nurse from Taunton, a paediatric cardiologist from Bristol and the ACHD youth worker. This gives the patients and families an opportunity to meet the team, who will be caring for them when they transfer to the adult service.
It provides a comprehensive service where a consultant will review the patients and complete routine tests like heart scans and ECG, before the patient meets with the nurse specialists and youth worker to learn more about a range of subjects – from fitness and diet, to conception and pregnancy and support in finding work.
The ACHD youth worker also provides support for families, as well as running events and activities for young people. They also get the chance to meet others with the same condition to build peer support networks.
They continue to provide support and opportunities to talk through the wider aspects of life with a heart condition, including employment for young people till 25 years.
Ganga added: "Reaching adulthood marks a time in a patient's life when they are beginning to think about moving away from home and becoming independent.
"It also begins the important conversation about taking responsibility for their own care. As part of this, we wanted to make sure that young people feel empowered and confident, fully understanding their complex heart conditions.
"Since the project began in May 2019, it has seen over 50 young people, who have told us that they find the 'transition clinics' really beneficial and prefer being seen more locally and feel more confident after meeting our team."