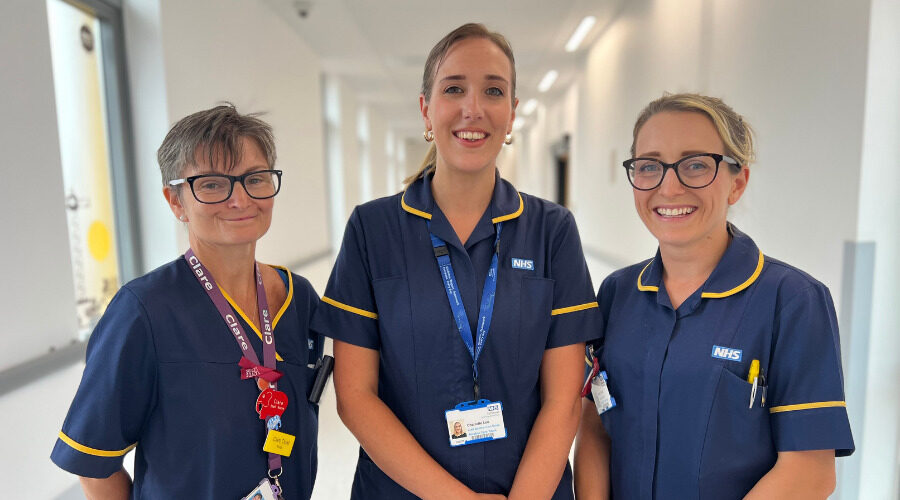 Spotlight
New alcohol care team launches at Musgrove Park Hospital
Patients being cared for at Musgrove Park Hospital, who also have struggles with alcohol, are now getting extra support thanks to a new service.
Our alcohol care service is a team of nurse specialists who review patients who are dependent on alcohol, as well as those with a high alcohol intake.
They provide support for patients during their hospital stay, as well as carrying out assessments on their motivation to reduce alcohol consumption and abstinence.
Two of our consultant gastroenterologists, Dr Rudi Matull and Dr Tom Johnston, played a lead role in setting up the service, which operates seven days a week, ensuring those patients admitted during the weekend get specialist support at the earliest point of their hospital stay.
About one in five adults in Somerset drink at levels that damage their health, with hospital admissions for alcohol-related conditions in Somerset (668 per 100,000 population) significantly higher than the national average (537 per 100,000 population).
And it's estimated that there are over 600,000 dependent drinkers in the UK, with heavy drinking costing the NHS over £1.7 billion every year.
According to Alcohol Change UK, alcohol misuse is the biggest risk of ill-health, disability and death for people aged between 15–49 year-olds, and the fifth biggest risk factor across all ages. The average British household spends £11.30 a week on alcohol – that's almost £600 a year on booze!
Laura Jones, our clinical service manager for gastroenterology and endoscopy, said the new service was good news for people struggling with alcohol dependencies.
"We're so pleased that we now have an alcohol care team, made up of three clinical nurse specialists, who provide support to our patients," she said.
"Our service aims to reduce the number of patients admitted to hospital through alcohol misuse, and also to shorten the length of stay for those who do need a stay in hospital.
"When a patient is referred to the alcohol care team, one of our nurses will see them on the ward and carry out an assessment. They'll either stay under the care of our team, or a referral could be made to an outside organisation, such as the Somerset Drug and Alcohol Service. We work closely with our psychiatric liaison team too."
Lottie Lee, our lead alcohol nurse, added: "Our new alcohol care team can carry out reviews on all alcohol dependent inpatients, as well as those drinking a high number of units every week.
"We firstly offer to assess a person's motivation to reduce their alcohol intake and/or achieve abstinence, which is a really important step.
"Then we can signpost them to community detox services and can even make a referral on behalf of vulnerable patients. We're also able to provide colleagues, patients and family with education around alcohol.
"As we're a new service, we're gradually seeing more and more patients every week, and those who we've supported have told us that they've greatly appreciated the education and support we've given them around alcohol withdrawal."