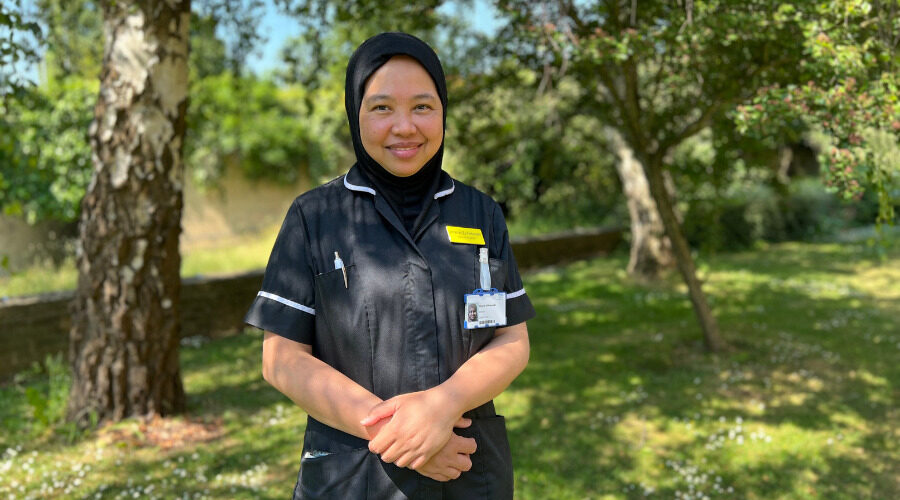 Spotlight
New matron role for Sharon El Fetouaki at Yeovil District Hospital
Back in 2018, Yeovil Hospital nurse Sharon El Fetouaki said she was proud to work for the NHS in a special video to commemorate the 70th birthday of the NHS.
Fast forward five years and Sharon is not only celebrating NHS 75, but also a promotion to the position of matron for our medical services group – and we couldn't be more proud of her!
Sharon was born in the Philippines and completed her nursing degree in her home country, before she graduated in 1996.
"I worked as a nurse in the Philippines for four years before I decided that I wanted to try a new scene, so I moved to Dubai and stayed there for five years," she said.
"Although my background was in emergency department nursing, I decided that I wanted to specialise for a while, so I spent time in a coronary care unit, where I worked two years before being offered a job in this specialism in the UK.
"I had the choice of working in London, Scotland or Yeovil…so of course I chose Yeovil! With Somerset having an older population than much of the UK, I knew there would be a greater proportion of cardiac patients – it was definitely the right choice for me.
"Altogether I've been practising as a nurse for 27 years, I've spent 19 of those on the acute coronary care unit (ACCU) in Yeovil – I've loved my time at the hospital so far and couldn't have asked for more as my colleagues are so friendly.
"Over time it has been great to learn about our patients, and of course learning about their culture, which has been really important in being able to care for them.
"When I first came to work in the UK back in the mid 2000's, I was a little apprehensive as I wear a head scarf and wondered whether I might get discriminated against at some point.
"I learned from the agency that hired me that the NHS promotes an inclusive culture that enables our colleagues to bring their authentic selves to work. So my apprehensions and the feeling of not going to be accepted here were overruled – I'm really proud of my heritage and am proud to celebrate it."
Sharon's career development has been slow at times, mainly because she was diagnosed with cancer, which understandably took up a lot of her energy and focus.
"I managed to get through hurdles in my personal life, and I felt that returning to nursing gave me a fresh perspective," Sharon continued.
"It made me determined to do everything I could to advance my career so I found a new role as a junior sister in our ACCU – it was very much about leadership and I felt that I was ready for it.
"Soon after, our senior sister retired, which left the door open for me to apply for and get the sister post on the unit, although this came with a bit of a twist, as I was given the challenge of looking after two wards at the same time – 8A, which is our cardiology ward, and ACCU.
"I was one of the first sisters at the hospital to manage two wards, which made me feel really proud, and although it was very challenging, I really enjoyed it.
"It has also been amazing to hear about how so many colleagues from ethnic minority backgrounds have taken up leadership roles at the trust – our merged organisation's culture is so welcoming, working with a strategic objective to creating a fairer and inclusive environment, and it feels like there's always room for everyone.
"I'm proud to be part of the NHS and I'm very happy that I came to work here in Somerset as the trust embodies all the principles that I stand for as a nurse."