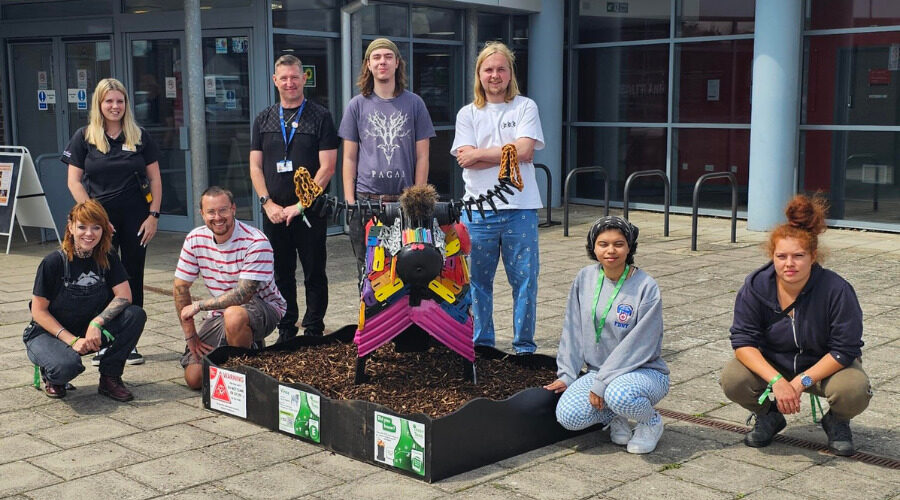 Spotlight
Our early intervention in psychosis team creates litterbug 'Vince' for Taunton's Trash Trail
A trail of 29 'litterbug' sculptures appeared in Taunton and across West Somerset a few weeks ago, making up the new Taunton Trash Trail initiative – and patients and colleagues from our early intervention in psychosis team (also known as STEP) gave a helping hand in designing and painting two of the sculptures on display this summer!
STEP is a specialist service for people experiencing, or at high risk of developing, their first episode of psychosis, and the team works closely with families and carers to enhance recovery. It was through one of these relationships, by a family member of someone who had been supported by the team, that they were invited to take part in the Taunton Trash Trail.
The sculptures in the trail are made of recycled objects and take the shape of all kinds of creatures. 'Vince' the bull, currently located at Wellsprings Leisure Centre (just up the road from our Foundation House site) was the handwork of STEP, made from hundreds of recycled pencils! The team also helped to paint the giraffe sculpture, which is located opposite the cricket ground, next to the Viridor building.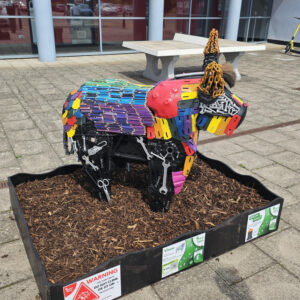 Dave Bobbett, STEP carers assessment and support worker, said he felt truly privileged to be part of project: "Working on this community art and fundraising project has been a great opportunity for everyone to get creative, and it's been wonderful to see both colleagues and patients working together toward one shared goal.
"I was joined by fellow STEP support workers Lenka and Ryan at the launch of the Trash Trail in Taunton town centre, where we were able to raise awareness of the team and recovery from psychosis.
"Unfortunately, the pencils used to create Vince had to be removed following vandalism, but he still looks fantastic, and we've loved hearing all the feedback and seeing people's photos of him!"
Two patients who took part in the project shared their reflections:
"I had such a lovely time working on the Trash Trail project. I absolutely loved getting to meet a bunch of new people with shared experiences, while spending some calming time working on the project. It was great to do something a bit different while being out in the sun (or rain!)".
"I felt that being part of an art project, and not just any art project, but the Trash Trail, made me feel included, accepted, and safe to be myself – as part of a mental health volunteer team. It was nice to feel acceptance in a group of people with similar mental health issues, so I didn't have to act a certain way. It was a new experience that allowed me to explore my creativity, and there was a lot of jobs to do which really helped me to be distracted from my mental health. I would like to be involved in future projects".
The Trash Trail launched at the end of July, encouraging everyone to track them all down over the summer. As well as Vince the bull and the giraffe, there is a three-tonne elephant, a 14-foot polar bear, a ladybird, an owl, a duck, a crocodile, and many more!
A public auction organised by the Trash Trail will take place at Oake Manor on 29 September, with all funds raised going to the Somerset Community Foundation.
Maps are still available to purchase from Taunton Visitors Centre or on the Taunton Trash Trail website if you wish to take part in the full trail, or if you just want to see STEPs handiwork, simply head down to Wellsprings Leisure Centre.