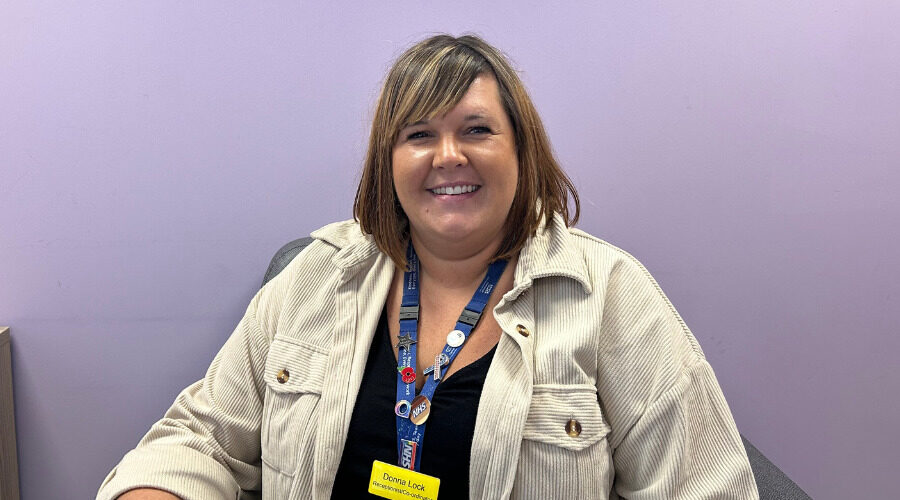 Spotlight
Sharing my story of loss for Baby Loss Awareness
Donna Lock, our community families hub receptionist and coordinator, has bravely shared her story of losing her baby daughter 15 years ago – raising awareness of baby loss, reminding others that they are not alone, and sharing the importance of speaking openly about loss and the impact it has.
My name is Donna Lock, and I've been working in the NHS for 10 years. I would like to finally share my story of losing my daughter. It has taken me a while to be able to share my story with other families going through this too, but I am now ready.
Fifteen years ago, on 21 August 2008, my life changed forever. I was expecting my first child, and everything was going well. A few days previously, on the 19th, I went for my weekly check up to Bridgwater Hospital to check on baby.
I arrived at my appointment and the nurse was checking for a heartbeat and said: "I think my machine is playing up today, I am unable to find a heartbeat, we are going to have to send you to Musgrove as their machines are better."
So, I drove to Musgrove thinking everything was OK. I walked into the room and they started scanning my tummy. The consultant stopped, looked at me, and said: "I am very sorry Miss Lock, but your baby has no heartbeat". I just stared; the room went quiet, and I said: "No I think you're wrong, please could you double check." By this point my heart was racing and my mind was very muddled. The consultant checked again and said: "I am very sorry, but your baby has died." I couldn't think straight; I just stared; I felt a tear running down my cheek; I felt cold, sick, and so confused. How could this happen, I did everything I should have while carrying my baby.
My journey of being a mother for the first time stopped. I was induced into labour, and I was in labour for three days. It was the hardest time in my life – I felt empty, like I wasn't there and that this wasn't happening. I had an amazing midwife who was so soft when talking to me, and was amazing when delivering my daughter. Her name was Amanda Lang, and she was amazing towards me and my daughter. I will never forget her – she got me through the hardest time in my life.
On 21 August 2008, I gave birth to a sleeping, beautiful little baby girl – my daughter. She was perfect, weighed 4lb, and just looked like she was asleep. I called her Mia Megan Hilton (Hilton was after her dad's name). Most parents at this point are happy, getting ready to take their baby home, and taking beautiful pictures. My experience was very different. I had to think about how I was going to tell people my baby had died, go home without my baby, and organise a funeral. I felt so numb.
I left the hospital without my baby, which was horrendous. I felt alone, empty, lost, and not the same person anymore. For the next year, my life was a rollercoaster. I had counselling offered to me though Musgrove and they were all were amazing. Talking to them really helped me grieve, and my family and friends also supported me in such an amazing way, I wouldn't have been able to get through this if it wasn't for the support of so many people. The best thing for me was to be open and talk about how I was feeling and to let myself grieve.
At the start I could not see an end to this nightmare, but 15 years on I am here telling my story. I want people to know that they are not alone, and you will never forget the babies/children that have died – but you learn to live with it, knowing you will never forget them. Every birthday and every year on 15 October (Baby Loss Awareness Week), I light my candle to remember my beautiful daughter Mia and all the beautiful babies/children that were taken from this world too early. Mia is still very much part of my life, and will always be.
I went on to have another baby, which was very frightening as I thought it may happen again. The NHS gave me so much support, from giving me extra scans to talking with me and listening to my worries. I am very lucky to be able to go on and deliver a beautiful baby girl, who is now 13 years old. She is called Gracie, and she is my rainbow baby. She has really helped me grieve and be able to live my life again, and become a mother like I always wanted. It wasn't easy, but the NHS can offer so much help and support.
My advice to anyone going through baby loss is to talk – it really does help. Please also remember that you are not alone.
Support available
If you would like support after pregnancy and baby loss, the Somerset Bereavement Website has a wealth of information, and signposts to many local and national charities who are there to help.