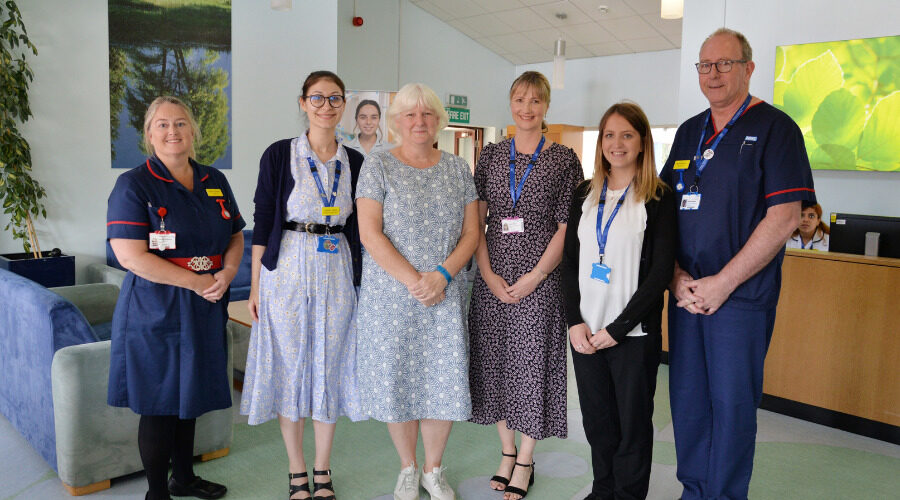 Spotlight
Spotlight on our private patient units – Kingston Wing and Parkside
The NHS offers so many incredible and varied services that are free at the point of delivery for everyone, however, for a number of reasons, some people may choose a different way of getting their healthcare treatment.
This is often referred to as 'private healthcare' or 'private treatment' – which generally means the patient's clinic appointment or treatment is funded either by themselves, or via a health insurance policy.
One of the main advantages of private healthcare/surgery is the shorter waiting times, along with the prospect of dedicated face-to-face clinic appointments with the consultant or specialist of the patient's choice.
Another benefit is the added privacy it brings, such as a single room with en-suite facilities and a comprehensive food and drink menu.
Many specialists are now happy to see patients without a GP referral and it's possible to self-refer too.
Within Somerset FT, we have two established private patient units – the Kingston Wing at Yeovil District Hospital and Parkside at Musgrove Park Hospital, with clinicians across the county providing care in a number of different specialties.
Both of our units have a huge advantage over other private healthcare providers as they not only give patients a private experience for their hospital stay, but they also have the reassurance and peace of mind of an NHS hospital that has critical care facilities available 24 hours a day in case of an emergency.
All profit from our private units is re-invested back into our NHS trust to continue to improve patient care for everyone.
Hannah Pitman, operational manager for the two units, explains how Kingston Wing and Parkside work.
"At both our private units, we offer many of the services provided to patients on the NHS, but with a private experience" she said.
"One of the huge benefits to private patients within our hospital is the back up from the NHS available on site should it be needed. Patients find this very reassuring, particularly those with comorbidities.
"Further benefits include consultant-led care and speed of treatment, with significantly shorter waiting times for all surgery.
"A patient can pay to see a consultant privately, and if they need surgery, clinical investigations or radiology, then they are booked in following their consultation.
"Both our private units use many different NHS departments within the hospitals, so a lot of colleagues are involved in our patients' care.
"All of our consultants' private care and treatment is done out-of-hours at evenings and weekends, alongside their NHS care, unless the patient needs a day list for clinical reasons.
"We aim to be competitive with our pricing and offer fixed price packages for self-funding patients. All of the money we generate is invested back into the trust."
The Kingston Wing offers a wide variety of treatments in the private sector and forms an important part of the hospital services we offer.
Consultant orthopaedic surgeon, Mr Matthew Hall, is the clinical director for the unit. "The Kingston Wing private unit continues to grow from strength to strength," he said.
"To me, it's very important that as a modern day health service, we're able to offer patients choice and options, and over the last few years patients are increasingly choosing the private setting for a variety of reasons."
At Parkside, the main speciality is cardiology, as this isn't available at other private providers in the area. The unit is also popular for orthopaedic care.
The Parkside team is currently in the process of appointing a new clinical lead to support private services at Musgrove.
Sarah Porter, our private patients manager, said the merger has created many opportunities for the two units to grow by working more closely together.
"By coming together, we're finding that we can pool resources better," she said. "For example, Kingston Unit has access to a neurologist and dermatologist, which isn't available at Parkside, so we're able to feed enquiries across to each other.
"We've been working more closely since this time last year and it's surprising how different our two units are behind the scenes, so we've done a lot of work to start bringing things together, though even now there's still lots to do.
"This is more important now, as our private patient waiting list is higher than ever following the pandemic, when we needed to use the beds to care for NHS patients.
"We normally have around 30 patients on our waiting list at one time, but it's currently five times that as we continue to recover from the pandemic.
"We're working to manage our waiting list, but whereas we don't really have much direct competition from private providers in Yeovil, there are a number in Taunton and the surrounding area.
"This means we need to give the patient a date as soon as possible else we'd likely lose their business, so we need to work closely with all our departments involved to efficiently run our waiting lists.
"We aren't just limited to our two district general hospitals either, as we can also offer a severe depression therapy, called repetitive Transcranial Magnetic Stimulation (rTMS), privately – this therapy is also available free on the NHS too to those being cared for by our adult mental health services.
"Together we are stronger as we're learning from each other. If the unit at Taunton is doing something more efficiently, then we can see how we can replicate this at Yeovil, and vice versa.
"The biggest message we want to get out there is to see private patients are a positive thing – we're working with the NHS for the benefit of the NHS."
Our private patient services team is pleased to offer NHS colleagues a 10% discount off trust fees, with relatives offered a 5% discount.