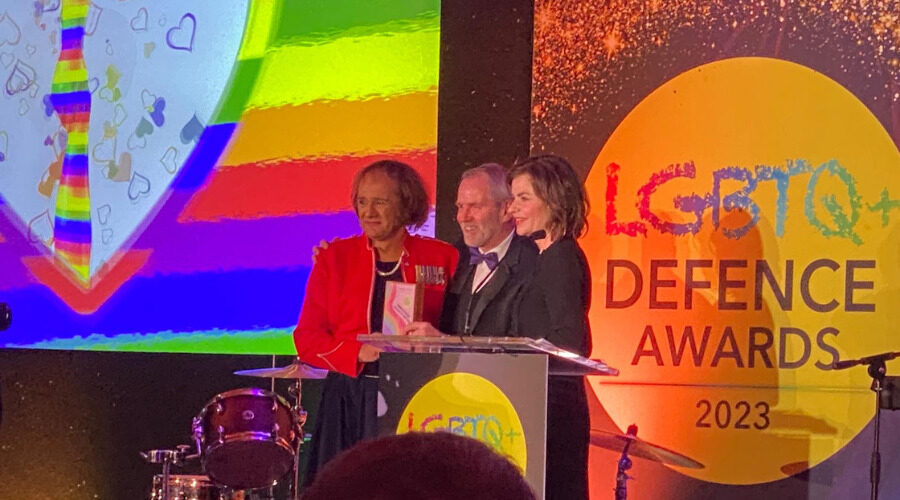 Spotlight
Steph Hayward takes home Leader of the Year at national LGBTQ+ Defence Awards
Stephanie Hayward is one of our wonderful Freedom to Speak Up Guardians at the trust, but to others she is also known as Major Stephanie Hayward. She has incredible experience working across both the NHS and the Armed Forces, and on Tuesday 17 October, this was acknowledged on a national scale, as she was awarded Armed Forces Leader of the Year at the LGBTQ+ Defence Awards 2023!
As well as being a F2SU Guardian, Steph holds the role of a mental health subject matter expert for 243 Multi-role Medical Regiment, and as a reservist for the Queen Alexandra's Royal Army Nursing Corps (QARANC). In December 2022, Steph openly started to question her gender, and within two months, came out to her Unit in the forces.
"Less than a year ago, I was someone who didn't even realise I was part of the LGBTQ+ community," said Steph. "Since living my true self as a trans woman, I have found my confidence grow, and have embraced and promoted diversity and inclusion through both of my careers. As a F2SU Guardian, I also feel that if I can't speak up, then who can?!
"I've been a mental health nurse for 25 years, and spent almost as long as an Officer in the military. During lockdown I took advantage of the opportunities to become a diversity and inclusion ally within the Army, and have since developed that role to become a D&I Practitioner.
"I hope to actively challenge unconscious (and not so unconscious) biases, and improve knowledge and awareness of our community, who are still marginalised, often misunderstood, and sometimes disrespected – actually, this is putting it mildly…being themselves can be fatal for some.
"I recently represented the trust at a symposium focused on health and wellbeing, and once piece of feedback that stuck with me was 'A trans woman presents to a senior military audience, and the only thing that matters is the quality of her information'. Within the Army and in the NHS, we all have our roles to play – but being transgender it's not about acting 'parts', it's simply being a different aspect of oneself.
"Through my own lived experience, and both of my careers, I am able to weave together facts and figures regarding the social, health, and mental health impacts on the transgender community; provide a 'back pocket' explanation for all on what transgender is and isn't, and its historical and global context; and an exploration of how best to provide a compassionate health service to transgender individuals."
The Leader of the Year Award recognises LGBTQ+ service personnel in the British Armed Forces, who have gone out of their way to advance LGBTQ+ inclusion in the workplace, and advocate the overall value of creating an LGBTQ+ friendly culture and work environment – and Steph is certainly doing all of that, and more.
Steph was nominated for the Leader of the Year Awards, and attended the evening ceremony in London, where she was announced as the winner on the night.
"I didn't set out to be a 'leader', I just see my role as business as usual," Steph continued. "I have found overwhelming support and encouragement, both in the Army and the NHS, and it's a space that I truly feel safe to be myself. I hope my thoughts are useful, as well as inspirational, to others – be that experienced, or new, on the transition pathway."
Our chief nurse Hayley Peters is the executive sponsor for our Armed Forces Network, and she shared how fantastic Steph has been in her role at the trust. "I want to say a huge congratulations to Steph on this brilliant achievement. She is an inspiration to so many, and has shown true bravery in opening up about her own experiences, helping to give guidance to others. Thank you for your contribution, not just to Somerset FT and the wider NHS, but to the Armed Forces community as well, and for championing diversity and inclusivity in all that we do."
Steph is also a member of our colleague LGBTQ+ Network, and network lead Dairin Keating also passed on congratulations on behalf of the network: "We were so pleased to learn of Steph's nomination in the inaugural LGBTQ+ Defence Awards, and we are beyond proud that she won the Armed Forces Leader of the Year award.
"As well as being a member of our LGBTQ+ Network, Steph is also the founding member of the Somerset FT Trans and Non-Binary community, and is an incredible role model to those within it.
"The armed forces haven't always been seen as an inclusive career choice or workplace, and actually,  a formal apology was made in July, following the publication of an independent review into the military's pre-2000 ban on LGBT personnel. This was an important step in ensuring the Armed Forces is more inclusive, and the LGBTQ+ Defence Awards is testament to the positive progress that has been made.
"Congratulations Maj Hayward!"
Upon being announced as the winner, the presenter shared the following comments:
"The judges were blown away by the sheer magnitude of inclusive change that Major Hayward is helping to drive in the Armed Forces. She handles difficult subjects with warmth and humour, masterfully bringing people on the journey. She has made her own personal journey of transitioning harder by presenting herself as a visible role model and smashing through barriers to create safe spaces for the benefit of many others who will follow after her. Major Hayward's perseverance is hugely admirable and it's clear that she has inspired a great number of people. Her achievements show you can lead at any level in the military to tremendous effect."