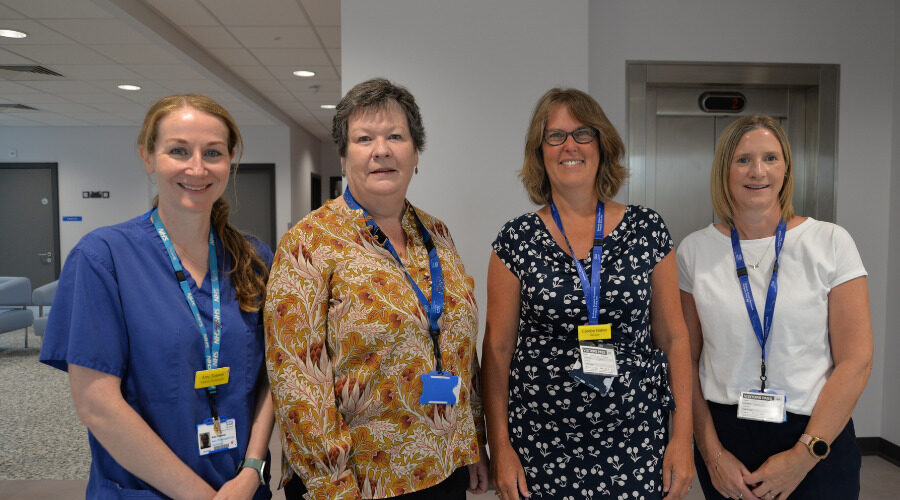 Spotlight
Taunton Diagnostic Centre expands to provide even more NHS care
Patients are now able to access even more NHS care and treatment from the Taunton Diagnostic Centre building.
The centre opened in September 2021 as the first community diagnostic centre in England run by the independent sector in partnership with the NHS.
Through this partnership, between Somerset NHS Foundation Trust (FT) and Alliance Medical, a range of diagnostic imaging services, such as ultrasound, magnetic resonance imaging (MRI), computed tomography (CT) and X-Ray, are provided from the building's ground floor.
And now, two new services traditionally run by the NHS from hospital settings, have moved into the building's first floor, with teams of clinicians starting to see their first patients.
The move means that patients can now visit the centre for an echocardiogram, commonly known as an echo scan, which is used to look at the heart and nearby blood vessels.
This type of ultrasound scan is where a small probe is used to send out high-frequency sound waves that create echoes when they bounce off different parts of the body. An echo is generally requested by a GP, heart specialist or other doctor who suspects a patient may have a heart condition.
And, in addition, part of our orthopaedic assessment service for Somerset – known as OASIS, has moved into the building so patients can get treatment for conditions that affect their joints, bones and muscles, and nerve tissue without visiting hospital.
Patients are generally referred into the service by their GP, with our teams of MSK physiotherapists developing a treatment plan for those with injuries and diseases affecting their muscles, bones and joints of the limbs and spine. It's a very busy speciality as almost a third of all GP consultations relate to problems with a patient's musculoskeletal system.
Richard Clements, a cardiac physiologist and our echo service lead, said:
"Our department, like many others, saw waiting times increase over the COVID-19 pandemic, and at one point the waiting list for an echocardiogram was almost a year. One of the limitations to addressing this was the lack of physical space at Musgrove Park Hospital.
"With access to the room and equipment at the Taunton Diagnostic Centre, combined with increased staffing, we've been able to reduce the wait to less than six weeks. By further expanding our capacity at the diagnostic centre, we can help maintain this and reduce the wait for other tests within cardiology.
"With a quieter atmosphere, and newly renovated facilities, our colleagues are enjoying working at the Taunton Diagnostic Centre."
Carolyn Nation, our orthopaedic assessment service (OASIS) manager, said:
"In March 2020, at the start of the first lockdown, our Taunton-based OASIS moved out of its established clinic room at Musgrove Park Hospital so our psychiatric liaison team could take up the space to provide safe care to its patients during the pandemic.
"This meant the OASIS team needed to work remotely and provide mainly telephone consultations for over three years. This affected the wellbeing of the team and has also meant the service hasn't been quite as we would like for our patients.
"The move of our service to the Taunton Diagnostic Centre will allow the team to come back together and we will, once again, be able to offer face-to-face appointments for patients in the Taunton area, which will help to improve the timing of the care we provide."
David Shannon, our director of strategy and digital development, said:
"We're really pleased to be opening an additional area at the Taunton Diagnostic Centre as so many patients will get their treatment more quickly, and it will free up more space at Musgrove Park Hospital for complex and urgent procedures.
"When the building was converted into a diagnostic centre in 2021, we future-proofed it for additional services, as we always planned for some outpatient clinics to move into the building at some point.
"The growth in waiting times as result of the COVID-19 pandemic, meant that we needed to explore ways to create extra capacity for planned care and treatment at an earlier stage, so using this centre is ideal – both for helping to get more patients seen and treated, and improving their overall experience at the same time.
"With the diagnostics available downstairs, some patients will even be able to get all their scans and treatments in the same place at a single appointment.
"So far, patients who've used the Taunton Diagnostic Centre since it opened have told us that they like getting their diagnostic tests in a modern stand-alone facility, as it's away from the busy hospital and means there's no hassle of parking.
"While these are the first two services to move across to the first floor, we're expecting that more outpatient services could follow in the coming months."