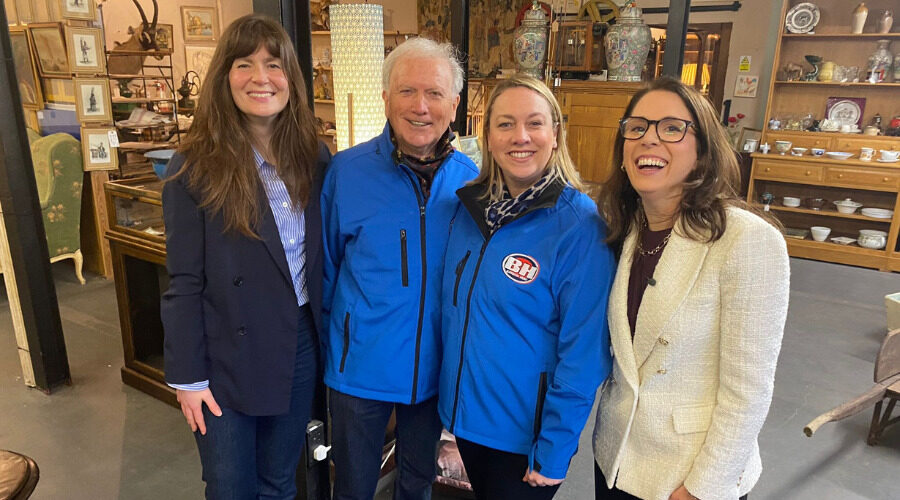 Spotlight
Therapist Tess does Bargain Hunt…but did she find a Bobby Dazzler?
Tess Grabham is a children and young person's therapy support practitioner, working out of East Reach House in Taunton…but last week she took on a very different challenge by starring in the popular BBC TV show Bargain Hunt!
Featuring alongside her dad Kevin, Tess admitted she had needed to brush up on her antiques knowledge beforehand, but had such great fun during the filming.
But the big question is, what did they buy? And did they find a Bobby Dazzler or was it just Cheap as Chips? You can find out by watching the programme here. Or just read on…
***SPOILER ALERT***
"It all began back in the Christmas holidays when I was flicking through the channels and settled on watching a bit of Bargain Hunt," said Tess.
"I thought that it can't be that hard, I quite like a bit of shopping, and definitely enjoy spending peoples' money! With £300 to buy three items, it would surely be easy peasy, I thought.
"I phoned my dad, who's into antiques and asked if he fancied applying for it, not really thinking we'd get anywhere. So, we applied and heard back within six weeks and went through to the next stage, which was a two minute video that we had to send in, followed by a 30 minute call with one of the casting producers.
"They asked us lots of questions and just wanted us to be nice and bubbly for TV. We were then offered a recording date in Hele, near Cullompton in Devon, for the middle of March, with the auction date at the beginning of April.
"We were given our £300 to buy three items in a strict one hour timeslot – there was absolutely no give or take either – very much like you see on TV! One item had to be over £75 and we also had to buy the expert's challenge item.
"As many Bargain Hunt fans will know, we couldn't spend the whole £300 as we needed to leave some money for the expert to buy an item too, which we could choose whether or not to accept just before the auction.
"I have to admit we were like rabbits caught in headlights and didn't actually buy anything for over 40 minutes – it was much harder than it looks! In truth we started to panic a bit, thinking we might be the only contestants in Bargain Hunt history never to buy anything!
"We walked around and were simply overwhelmed, knowing that we were running out of time as someone with a timer was always with us – out of camera shot of course. Although we had a cameraperson and production team following us the whole time, we honestly forgot they were even there.
"Our challenge for one of the items was to buy something associated with a Victorian gentleman, which really threw me as I had to wrack my brains about the Victorian era – it was like being back at school!
"It was really tricky, so we decided to use the first part of the hour to get that challenge out of the way, but it was really hard. We saw things and kept saying no and that we'd come back, but it got to the point that we had to start making decisions.
"The first thing we bought was our 'over £75' item – a big old French wheelbarrow, which I really didn't want to buy at all, as to me it looked a bit like firewood, but dad was really interested in it. It was priced at over £200 but we haggled it down to £149 – I thought it would be an absolute disaster and we'd get laughed out of the auction house!
"The second item was our challenge item, which we had seen previously on our wander around the antiques centre – a Victorian spirit level, which was £20, but we got it down to just £8.
"And then the third item was something we had also already seen, so we went back and bought it with just seven minutes remaining on the clock. It was a sterling silver green compact mirror, priced at £89, but we got it for £63, leaving £80 for our expert Steph to buy an item.
"Two weeks later we visited the auction centre in Chippenham where cameras shot from the back of the room with everything happening live in front of us.
"We sold all three items and knew straightaway whether we had made a profit or not, but we weren't allowed to give the game away to our competitors – the Red Team!
"Our expert, Steph, then came along with her item and asked us whether we'd like her to proceed to sell it – to which we trusted her and said yes - she had bought a pair of vases.
"To our absolute delight we sold all three of our items, plus the expert's item, which meant we got a Golden Gavel!
"When all the figures were totted up, presenter Natasha Raskin Sharp revealed that we had won – we were thrilled!
"Looking back, it has been such a great experience and so nice for my dad and I to take part together, we had such a fun time and would recommend it to anyone!"