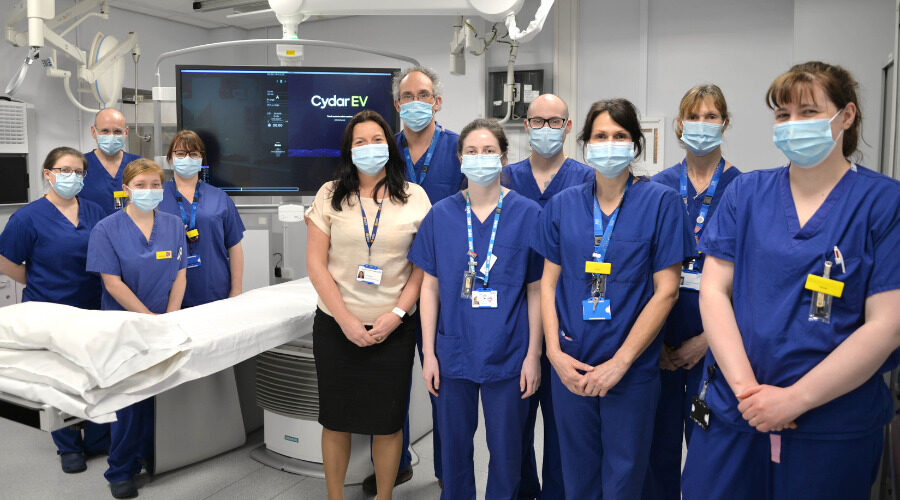 Spotlight
Top award for our interventional radiology team
Colleagues in our interventional radiology team are celebrating the award of 'Exemplar Status' by leading figures in the profession.
The British Society of Interventional Radiology (BSIR), a charitable foundation that aims to promote and develop the practice, has named the trust as an exemplar for our "excellence in service provision".
Interventional radiology is a specialty that uses imaging in the form of ultrasound, fluoroscopy or CT, to guide doctors so they can perform a range of minimally invasive surgical procedures.
It's an alternative to open surgery and is used to diagnose and treat patients, using the least invasive techniques available to minimise the risk – often for parts of the body that are difficult to reach during surgery, such as blood vessels and tissue.
Most interventional radiology can be done as a day case procedure under a local anaesthetic, with patients generally experiencing less pain and recovering more quickly too.
Musgrove Park Hospital is the home of interventional radiology in Somerset, and we also provide treatment for patients under the care of North Devon District Hospital.
Dr Katharine Lewis, one of our consultant interventional and cardiovascular radiologists, said the exemplar status recognises the high quality service provided by our interventional radiology colleagues.
"I'm truly thrilled that we've gained exemplar status from the British Society of Interventional Radiology (BSIR), which really sets the standard for education and training in our field.
"When we applied for this, our colleagues at the BSIR told us that we needed to show real commitment to service improvement and provide evidence of how we've achieved this.
"We were first awarded exemplar status in 2018, although the criteria has become stricter over time, so it's an even greater achievement.
"We were assessed against a number of criteria, including our level of 24/7 cover, the range of services we offer and the ability to provide outpatient clinics.
"Colleagues in our interventional radiology team work with many different teams across the hospital, including vascular, urology, gastrointestinal and cancer teams, to provide treatment for those patients.
"The BSIR also assessed the quality of information we provide to patients, along with our satisfaction rate – 100% of our patients rated us as providing excellent care – an incredible achievement!
"We've made some really positive clinical improvements too by embracing new technologies, such as reducing our radiation dose by 37% and the procedure time down by 40%.
"Over the last two years we have introduced a new enhanced care practitioner role, where our nurses and allied health professionals have been trained up to do certain procedures, such as draining fluid, largely for patients who have terminal cancer. This means patients don't need to be in hospital as much, and can spend more time with their loved ones during the last days of their life.
"We have integrated the use of augmented intelligence (AI) software in our vascular procedures, where we create a map of patients anatomy from the CT scan and transfer the image onto our interventional theatre suite to help guide us to our targets, changing 2D imaging into 3D.
"Although Musgrove is a medium-sized district hospital, we really punch above our weight in many ways. The level of interventional radiology service we provide across Somerset is similar to some of the larger, more specialist centres in the UK.
"We are now looking forward to opening a new hybrid theatre as part of our surgical centre, which is due to open in 2025, allowing us to perform even more complex combined procedures – it's exciting times for interventional radiology in Somerset."