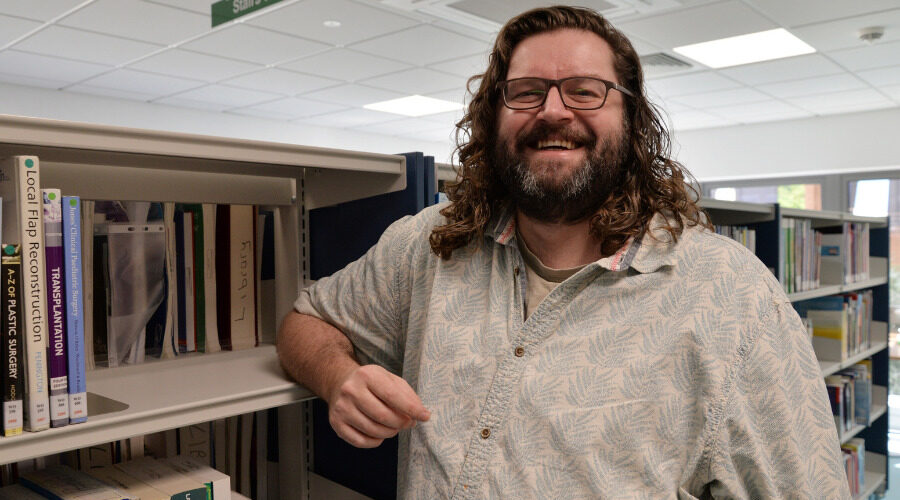 Spotlight
Trust psychotherapist awarded £15k for mental health research projects
Dr Adrian Hayes joined Somerset FT as a consultant medical psychotherapist in August 2022 – the only post of this type in the trust.
As part of his role, Adrian works closely with our medics to bring psychotherapy into their thought process when working with patients. He also supports our trainee psychiatrists with a range of teaching opportunities.
Research has always been something close to Adrian's heart, as he feels it's a way of finding out what really happens in the world, as well as helping people in the process.
"Before I went to medical school, I worked in prison health research and I've wanted to bring research back into my clinical life for some time," he said.
"My supervisor always used to say to me that when considering a research project, you must initially think 'so what', how is this research going to improve care and treatment.
"I successfully applied for £15,000 of funding from the National Institute of Health Research to become a research associate, of which I'm the only one in mental health in Somerset. I'm already working on a few existing studies at the trust to re-learn the ropes of clinical research!
"One of these projects is on autoimmune encephalitis – a collection of related conditions in which the body's immune system attacks the brain, causing inflammation.
"It's an organic cause of psychosis, and the study I'm leading on looks at whether we can do a quick blood test to check if a patient has this condition, so they can be treated completely differently to the normal methods in psychiatry.
"It's a really exciting study that has been going on for quite a while in the trust, and also involves the University of Oxford.
"As part of our involvement in the study, I'm recruiting trainee doctors on the wards, as they're in effect the colleagues who are likely to see these patients in their first episode of psychosis.
"I'm also working on a study that looks at the link between serious mental illness and diabetes, where we try to work on a patient's physical health, which is really important.
"And we have another a trial due to start soon, which looks at the use of psychedelics on depression – a new area that a lot of people are interested in.
"In the future, I'm hoping to bring a national study to Somerset, and I'll also look at my own research interests too.
"My primary interest is self-agency in psychotherapy, which is the feeling that people often get during therapy, when they start to think differently and realise they may have different options to the ones they had before…to the extent that they can go off and live their life the way they want to.
"In my opinion, the recovery of a patient is the most rewarding part of psychotherapy - especially in the area I specialise in, which is personality disorder and complex emotional needs.
"Self-agency seems to be very important for those people, especially when they're able to focus the energy they have and find their place in the world.
"I'll be undertaking a survey of psychotherapists at the trust to understand their experience in this area, as well as interviews with people who've had therapy and what happened for them.
"Working with people with lived experience is really important to me as it helps give us an understanding, together, on what's helpful and what we should do.
"I'm also trying to develop the research capability in our mental health service group, where I'm aiming to bring together clinicians who are interested in research – there's lots of us in Somerset, but it can be a bit overwhelming, so supporting and motivating each other, while discussing topics, is crucial. My ambition is to get all our research projects in Somerset on the map!
"In my specific area of complex emotional needs, I think it's really important for people to be involved in their care, and more broadly than that, to give them more general support and understanding of what's happening to them.
"Being involved in research not only improves our knowledge, but can also be therapeutic in itself, as it gives those people involved a voice, and in a way we're working with them on an equal basis….it's also quite fun!
"I've already started sending out invitations for our first clinical researchers forum group to get people together, see how many people are interested, and find out what they want to do.
"Then it's about making some links and learning the ropes a bit, and making sure I understand all the research procedures that we need to follow, which can take a bit of time.
"During my research time I'll be having supervision from Professor Paul Moran at Bristol University, who's an international expert in this area. I'll do my best to show him that Somerset FT is a research-friendly trust and try to inspire him to use us for his high profile research!"