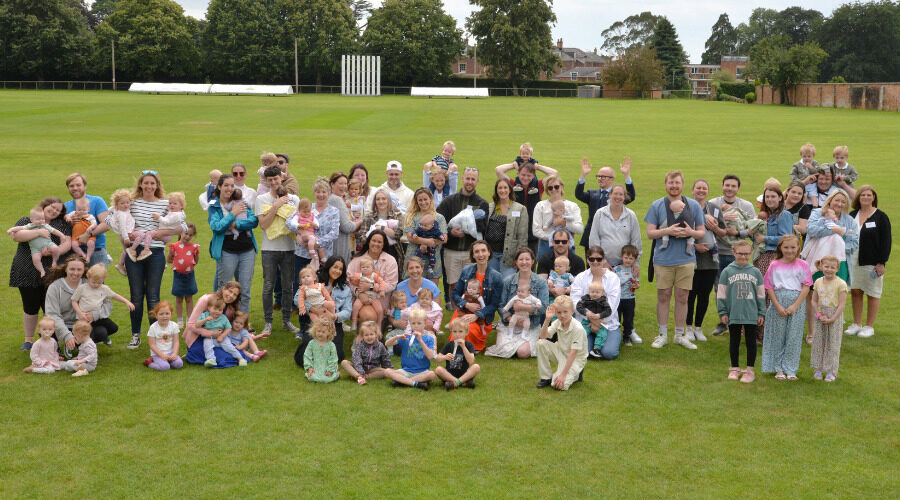 Spotlight
Twin clinic celebrates two years…and lots of improvements!
Scores of parents of twins came together this month to celebrate the second birthday of our twin clinic, which is led by consultant gynaecologist and fetal medicine lead, Dr Kat Harrison-Tvarozkova.
The event, held at the Wombat Cricket Club just outside Taunton, included a fun-filled picnic with games and raffles taking place too...and there was even an appearance from BBC Points West's senior health reporter Matthew Hill, who found out from Kat all about the benefits of the twin clinic, as well as hearing first hand from families about their experiences.
Since the clinic launched in April 2021, the number of emergency c-sections for twin mothers at Musgrove has reduced significantly - just 9%, compared to the national average of over 30%.
Women expecting twins are at greater risk of complications and need close monitoring with additional scans and appointments, which is where our dedicated twin clinic comes in. The expectant mum's care is monitored by the same team, which helps them to build up a strong relationship with their named midwife and consultant.
The concept and implementation of the clinic was led by Kat, Lorraine James, our antenatal clinic midwife, Julie Austin Thompson, Tracy Brick and Leanne Renhard, from our screening team, and Lynn Borthwick, our former antenatal clinic lead, who has now left the trust.
The number of twins who need further care at Musgrove Park Hospital's neonatal unit has reduced to 11%, lower than the national average of 37%. This means more babies can go home with their mother and siblings earlier, ready to begin life at home.
The team's work has been praised by the nationally accredited 'Twins Trust', which showed that the team's vision, hard work and dedication had paid off, with overwhelmingly positive feedback from parents.