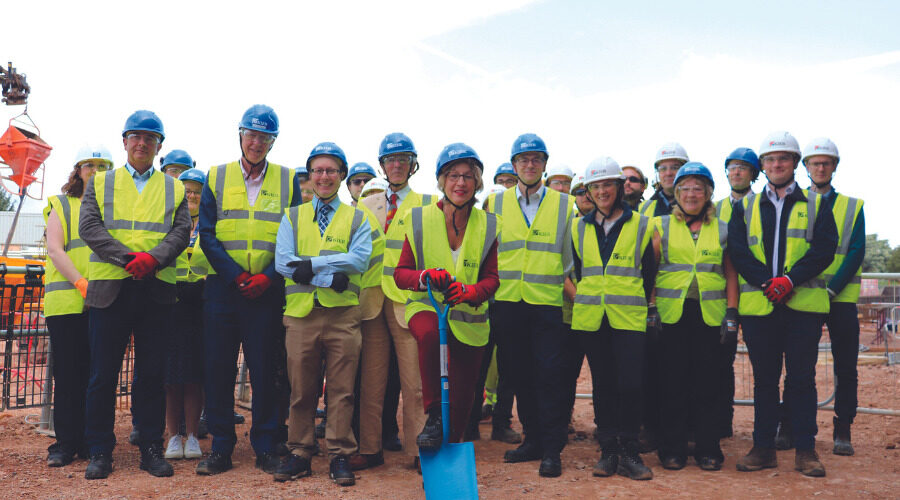 Spotlight
Work begins on £87 million surgical centre at Musgrove Park Hospital
Construction work has begun on the main build of our new £87 million surgical centre at Musgrove Park Hospital.
The new state-of-the-art surgical centre will replace the current hospital theatres and critical care unit, which were built during the Second World War as part of a temporary casualty evacuation hospital for the D-Day landings. It will also house a brand new endoscopy suite.
On Friday our chairman Colin Drummond was joined by the clinical teams who'll use the new centre and those responsible for the build, along with Taunton Deane MP Rebecca Pow and lead constructors Kier, in a short ceremony to mark the start of building work.
"Our much loved Musgrove Park Hospital dates back to the Second World War," said Colin.
"The new theatre block is the latest in a series of transformative developments on our site, designed to give the people of Somerset and our colleagues the facilities and environment which they deserve. It will make a huge difference to the service we can offer and the experience of our patients.
"The next key part of the jigsaw is our further planned developments, including a new maternity and paediatric centre, which is a confirmed part of the government's new hospital programme."
The new surgical centre will include:
Six endoscopy rooms, patient recovery and clinical support areas
Eight operating theatres (including two state-of-the-art hybrid operating theatres that can be used for both surgery and interventional radiology), recovery areas and clinical support.
22 critical care beds, all specified for level 2 and 3 critical care patients
Dr Dan Meron, our chief medical officer, said the news was a huge boost for people in in the county.
"This is an important milestone in the future of surgery and critical care in Somerset and we're already starting to count down towards opening our new surgical centre in early summer 2025," he said.
"The quality of care provided to our patients is something we are very proud of, and we want to help people to stay as well as possible, but where people need specialist intervention, our new centre will be there to support them through surgery and intensive care.
"We want to support our excellent clinical and non-clinical teams to further improve the outstanding care that you provide to our patients, and we are very excited at the prospect of being able to care for and treat our patients in state-of-the-art operating theatres and critical care facilities.
"Our new surgical centre will also mean we can continue to phase out the use of our older 1940s buildings for patient care and treatment, which is an important step as they're increasingly difficult to maintain."
Much building work and service moves have taken place over the last few years in preparation for the new surgical centre, including a new sterile services centre, relocated superficial x-ray department, and main hospital kitchen move, among others.
Dejan Branc, one of our critical care nurses, said: "The new surgical centre is an excellent development for the hospital and I feel it will improve both colleague satisfaction and the experience of our patients.
"I'm excited to see the new surgical centre and strongly believe that our hospital needs new, modern, well equipped, and staffed units so we can meet the ever-increasing demands of healthcare."
Wambui Wamugunda, our clinical manager for general theatres, said: "The new surgical centre will improve the environment and experience of our patients in Somerset and we are delighted that the work has now started.
"This exciting development will help drive our transformation of acute care for our community, while providing a positive experience for our patients and colleagues at the hospital.
"Our trust plays a major role within the community and this additional capacity will help to provide more resilience for the local healthcare system."
Dr Emma Wesley, clinical lead for endoscopy across the NHS in Somerset, said: "We are delighted that we will be moving our acute endoscopy services to this new state of the art facility.
"We currently have this for our community site at Bridgwater Hospital, but most of our high risk procedures are done at various locations within Musgrove Park Hospital.
"This development will ensure all patients are seen in a purpose built unit, and it will improve our ability to treat patients in a timely manner."
Rebecca Pow, MP for Taunton Deane, said: "To officially cut the turf marking this significant step in the history of our hospital is a very exciting moment.
"It signals the way for the state of the art surgical centre that will be of enormous benefit for the people not just of Taunton Deane but also the whole of Somerset and it will provide a fitting work place for the hard working, dedicated and professional NHS staff.
"I've been delighted to work closely locally with the Musgrove team on this project over many years whilst playing my role too in Westminster.
"In 2018, I secured a debate in Parliament calling for new hospital theatres to replace the outdated surgery facilities; I followed this with a petition which attracted a phenomenal 6,000 signatures which I duly presented in Parliament.
"Further work with the NHS Foundation Trust and close engagement with the Department of Health saw the funding secured and has brought us to this momentous day.
"I am now continuing to work with the Musgrove team on the upgrade of the whole site which, I'm delighted to say has been secured in the Government hospitals programme for completion by 2030."
Dave Snell, strategic healthcare director at Kier Construction Western & Wales, said: "We have been working collaboratively with Somerset FT for over five years, helping to deliver the hospital's Musgrove 2030 plan which aims to radically transform the hospital's estate.
"The start of work on the surgical centre is an important milestone and something we are very excited about at Kier.
"We will utilise our vast experience within the healthcare sector to deliver this project, which will support the trust in providing important services for the people of Somerset."