Letter of Hope
Click here or on the image below to see a selection of Letters of Hope that we've received from people who have been affected by suicide.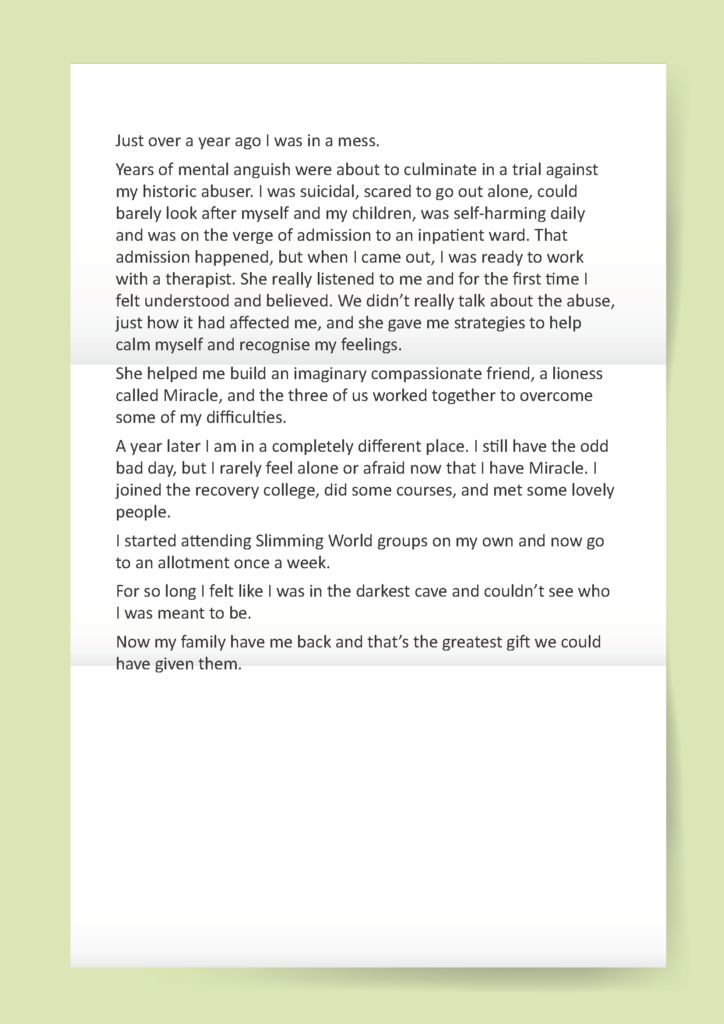 Message from the Somerset Letter of Hope group
Dear Friend,
We are a group of people from Somerset who have come together to write a letter of hope to remind you that there is always hope for recovery,  that we care about you and what happens in your life. We are writing to show you there is hope and to give you hope.
We don't know you and you don't know us but like you we were once in the depths of despair and experiencing suffering and pain. At times we have thought that life is not worth living and some of us have contemplated or attempted suicide. We have been to A&E, been referred to the Home Treatment Team, telephoned the Home Treatment Team for support, been through therapy and/ or been admitted to hospital. You are not alone, it is not unusual for people to feel this way and we have provided a link to some techniques that may help you.
We have found that suffering can occur to anyone regardless of their walk of life and does not mean that you are weak. Anyone can experience difficulties maintaining their mental health. We ask that you seek help if you are suffering. You are not alone. Speak to a friend or family member, see your GP or contact a help line or support group. Be clear when you speak to people that you are struggling to cope and you are seeking help. It can be very helpful to make a connection with some-one and we ask that you speak with someone who will try and help you. This can be your local NHS Home Treatment Team, the Samaritans or MIND. We have provided all the numbers you may wish to use.
We want to remind you that you do have value and self- worth even if you can't see or feel it at the moment. It is important to be kind to yourself and allow yourself time. It can be helpful to accept that things are difficult right now. Please believe in yourself and in what tomorrow might bring. Believe that you can get through this moment. Recovery is a journey and like any journey it takes time.  Along the way, there will be good days and bad days and bumps in the road. It is important to take things 1 day at a time.
Our message of hope to you is that in time, things will feel easier than they do today. Things will make you smile, bring you comfort and show you that the future can be brighter than it seems today.
Please keep this letter as a reminder that there is hope and that you are not alone. We hope that you find some comfort in knowing that we care.
We all agree that recovery is ALWAYS possible.
We wish you well,
With love,
Somerset Letter of Hope group.