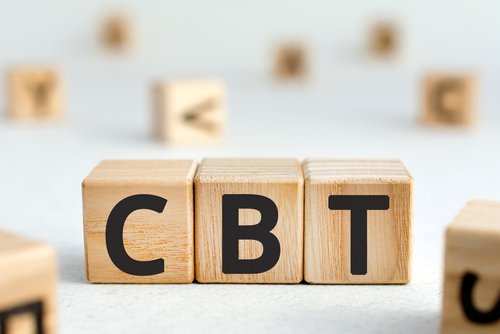 Cognitive Behavioural Therapy (CBT) is a 1-1 talking therapy which is recommended by NICE guidelines to address a range of presentations including anxiety, depression, OCD, panic, social anxiety, phobias, adapting to long term health conditions etc. It is a collaborative therapy; the CBT therapist will bring specialist knowledge and skills to share in the sessions and you will be able to share your insights and knowledge about your problems and what you have found helpful or unhelpful when you have tried to improve the way you feel.
Together with your therapist, you will develop an understanding of the connection between your thoughts, feelings, physical sensations and behaviours in order to improve the way you feel. Sometimes we can feel stuck or caught up in 'vicious cycles' and the steps we take to try and make ourselves feel better might actually keep the problem going. This can often lead us to feel frustrated and upset. Have you ever noticed yourself stuck in a vicious cycle? Here are some examples:
Depression Cycle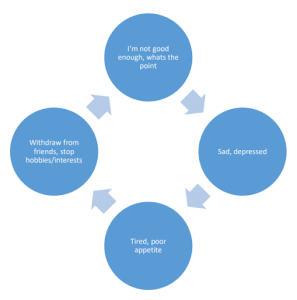 Anxiety Cycle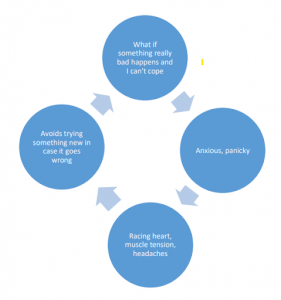 CBT helps to break these cycles by changing our thinking patterns and our behaviours to improve our mood and life satisfaction.
CBT is interested in how we interpret and react to situations which can influence how we feel. Imagine you walked past someone you knew and they didn't say hello to you and you thought they didn't like you anymore or did it on purpose. How might you feel? Sad, depressed, angry? Now imagine you walk past someone you know and they didn't say hello to you and you thought they must be busy or maybe they didn't see you. How might you feel? Neutral, curious about where they might be going, fine? This is an example of how the way we think about a situation can affect how we feel.
Treatment sessions will be offered weekly for 50 minutes, for up to 8 sessions – the exact number of sessions will be discussed with you. Sessions are usually held online using an NHS approved video conferencing system but can be in person if this is the best way to help you. Active participation in sessions and putting the learning into practice in between sessions will help you get the most from your sessions. We look forward to talking to you.
Refer Yourself